UFC: Nate Diaz stops Gray Maynard in a round at finale of Ultimate Fighter 18
Nate Diaz delivered a reminder of his talents by stopping Gray Maynard in round one at the Ultimate Fighter 18 finale.
By James Dielhenn
Last Updated: 03/12/13 9:34am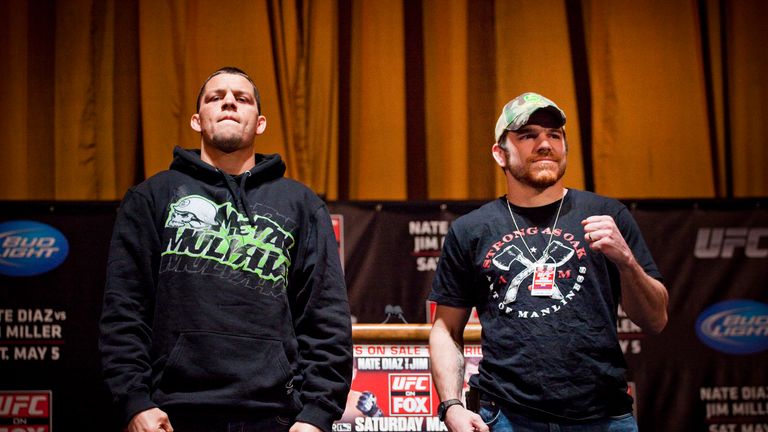 With his high-profile brother Nick still retired, Nate provided reassurance that the brashest, wildest brothers in the UFC remain relevant.
Despite losing his previous two outings, Diaz lacked none of his family's trademark swagger - arriving casually in his jeans before delivering a reminder that, at 28 years-old, time is on his side as he ascends the lightweight food chain.
It was a resounding way to end a trilogy with Maynard spanning six years. In 2007 Diaz won by submission and Maynard earned a decision win three years later.
Diaz's tongue-in-cheek decision to headline the Las Vegas event rather than attend a high-school reunion was justified by a £50,000 Knockout of the Night bonus.
"It would have been cool to go," he said in the post-fight press conference. "But I was broke so I had to show up."
Not anymore. The Stockton, California ghetto kid trails only Anderson Silva and Joe Lauzon for bonuses after his 11th accolade.
Maynard actually started strongest, taking his opponent down but Diaz defended himself before getting back to his feet.
He then landed punch after punch - crisp boxing weaving accuracy into occasional power strikes, each blow carrying a refusal to be relegated into obscurity. The referee stepped in before Maynard duly fell face first.
The sight of a scowling Diaz brother pacing victoriously representing his gym and his neighbourhood hadn't been in 18 months.
Maynard, now 34-year-old and no longer a contender at 155 pounds, has now lost three of his last four fights due to strikes.
In the finals of season 18 of the Ultimate Fighter, England's Davey Grant was submitted by Chris Holdsworth. And Julianna Pena defeated Jessica Rakoczy.