UFC Fight Night: Mark Hunt and Antonio 'Bigfoot' Silva fight to draw in brutal contest
Mark Hunt and Antonio 'Bigfoot' Silva fought to a draw at UFC Fight Night 33 in Brisbane.
Last Updated: 07/12/13 1:46pm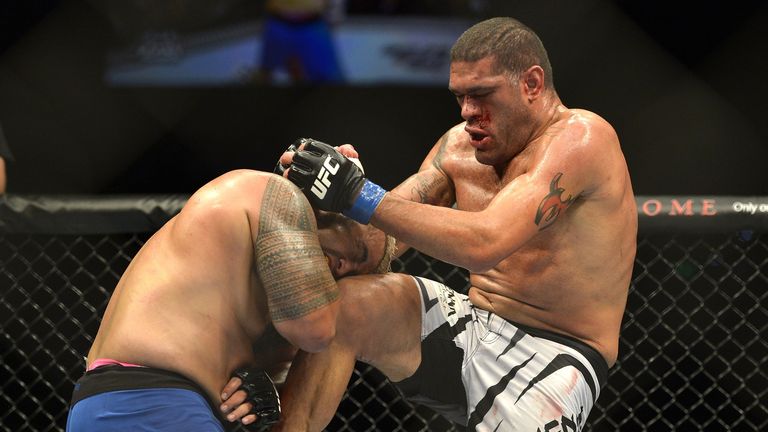 A 25-minute, five-round contest could not separate two combatants who both returned from the brink of defeat to deliver a memorable battle Down Under.
Three judges scored 47-47 and one gave Hunt a 48-47 win so a majority draw was ruled. The Australian audience were deprived of a victor but treated to a marathon main event that may be shortlisted for Fight of the Year.
The opening two rounds - where many predicted Hunt to win by knock-out or Bigfoot by submission - were tense and offered no clue as to the storm approaching.
Hunt's colossal right hand made Bigfoot see stars in the third. The New Zealander smelt blood, landing ground strikes frantically. Somehow Bigfoot survived.
Another barrage awaited. Hunt's elbows made their mark before the Brazilian, a giant on wobbly legs by this stage, responded with a knee from the clinch that almost resulted in a stunning comeback finish.
Hunt, like Bigfoot before him, hung on. The fifth period, unchartered territory for both, saw Bigfoot cut badly but refuse to go down . The pause required to close the wound may have saved him from the predatory Hunt, whose shots were landing into the closing moments.
The bell mercifully rang and a draw saved one man from a defeat that neither deserved.
Earlier in the night, legendary Mauricio 'Shogun' Rua ended his decline by knocking out James Te Huna.