UFC: Demetrious 'Mighty Mouse' Johnson ready for rematch with Joseph Benavidez
We look ahead to Saturday night's UFC clash between Demetrious 'Mighty Mouse' Johnson and Joseph Benavidez.
By James Dielhenn (@jamesdielhenn)
Last Updated: 15/12/13 2:32pm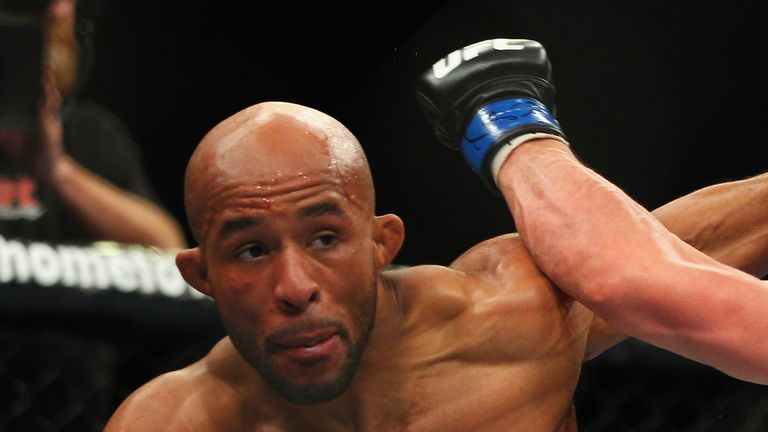 And arguably even that pin-up duo cannot claim to currently rule their respective divisions in Johnson's graceful yet peerless manner ahead of his rematch with Joseph Benavidez in Sacramento, California this weekend.
Standing at just 5'3" and weighing 125 pounds he hardly fills the cage but Johnson is the torchbearer for flyweights, a burgeoning category whose speed of foot and sharpness of technique make the mind boggle.
Fifteen months ago Johnson beat Benavidez to become inaugural champion and after they since won three fights each, it is clear they are in a league of their own.
It wasn't always that way. Before the inception of the 125-pound roster they struggled against larger opponents and 13- pound champ Dominick Cruz bested them both.
"The only reason I realise that I'm the champion is when people call me and say, 'hey champ'," the level-headed Johnson told UFC.com.
"I still mop the gym, I still get beaten up in the gym.
"People look at me and say, 'hey there's Demetrious Johnson, champion of the world'. But I say, 'no, I'm just a man who works hard'."
The 27-year-old's fleet-footedness is his biggest attribute - he is almost inarguably the quickest fighter in the UFC and he rarely wastes a shot with either his crisp boxing or dominant wrestling. Benavidez brings more knock-out power to the table than a man of his size ought to possess.
"I think I have that extra bit of killer instinct that he doesn't have. I hurt people in my fights," the Mexican-American challenger vowed.
Split decision
Indeed he briefly hurt Johnson in their first meeting but found his foe too difficult to catch, ultimately losing a split decision.
"This time it's a whole different animal, I feel like I can go out there and dismantle him," Benavidez continued. "He's a mouse."
The difference may be Benavidez's alliance with coach Duane Ludwig. Although he only landed 18 per cent of attempted strikes in the first fight, Benavidez may just need to land one flush shot to end Saturday's rematch after Ludwig improved his punching power.
"I come from a school where we don't just throw bombs to hope they land," retorted Johnson.
"If I went out there to throw bombs and hope they land then I'm doing myself a disservice in the art of mixed martial arts."
A second victory over the most dangerous contender would legitimately place Johnson amongst the UFC's pound-for-pound elite and at 27 time is on his side to make a further mark.
"As for my legacy," he dreamed, "I hope I can be the longest reigning champion and I hope I can go out on top when I'm ready to leave."
St-Pierre and Anderson Silva's 11 successful title fights are an imposing benchmark but Johnson is continually adding new elements to his attack, evidenced by a late submission over John Moraga in his last defence.
Naming 'Mighty Mouse' alongside these legends is premature but in the current landscape few champions seem as superior. Johnson was certainly superior to Benavidez a year ago and this weekend he must again prove that he stands alone atop the flyweight mountain.