UFC 168: Chris Weidman looks to conquer Anderson Silva for a second time
James Dielhenn looks ahead to UFC 168, where Anderson Silva faces Chris Weidman in a highly-anticipated rematch.
By James Dielhenn (@jamesdielhenn)
Last Updated: 24/12/13 10:24am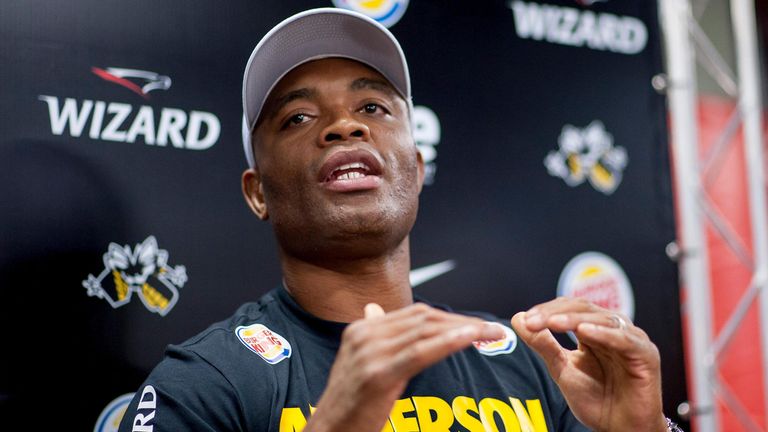 At UFC 168, Weidman defends both his middleweight championship and his reputation as more than just an unfortunate blot on Silva's otherwise immaculate copybook.
The shocking end to their original encounter - Silva's posturing giving an inch which Weidman turned into a mile - means that Saturday's rematch answers whether the UFC's greatest prizefighter was pushed or jumped.
There may have been something in the air in July, a bizarre atmospheric twist that told us Silva was not the unbeatable superhero of old. Fellow fighters had foretold that Weidman was purpose-built to end the myth of the mighty Brazilian.
Silva's theatrics may or may not have briefly worked in that fight, adding another layer of allure to December 28's Las Vegas spectacle.
Whether the 38-year-old succumbed to Father Time or whether he erred in his usually perfect footwork will be decided during the second chapter. Weidman's shuddering knock-out desensitised Silva and the majority of the aghast audience.
"I still feel like I have everything to lose in this fight," Weidman told UFC.com. "I need to win this fight to solidify me as champion."
The psychological edge will be intriguing - an undefeated champion rematching an ageing challenger favours the former but there remains the inescapable dilemma of whether one punch can shift a paradigm that has been in place since 2006 - Weidman confesses: "He deserves to be the favourite."
Nothing to prove
"I don't think I have anything to prove to anyone," Silva told UFC.com with the sharp tongue disguised amongst a soft whisper that replicates his martial arts.
"What's at stake is me coming back."
How he chooses to return may be pivotal. The arrogant mastery of his movement which has so long been a trademark was exploited as foolhardy by Weidman so the placement of Silva's defence - sensibly by his chin or demeaningly absent altogether - may say more than he can verbalise about his rationalisation of that notorious punch.
It makes no difference to the 29-year-old champ: "I'm telling Anderson Silva my gameplan - if he has his hands down I'm punching him in his face, if he has his hands up I'm taking him down."
That takedown, or the threat it poses even before its occurance, has historically been Silva's Kryptonite but Weidman also possesses granite hands and a ground-game that matches his challenger's.
His experience of the Vegas limelight and the weight of the belt - and expectation - is limited but the New Yorker's toughest battle will never take place in the Ultimate Fighting Championship. Hurricane Sandy decimated his family home but not Weidman's resolve. When he claims he is "not really worried" about Silva you tend to believe him.
The statistics are ominous. Nobody in UFC history has won more championship fights or recorded as many knock-outs as Silva. He has the highest ever successful strike percentage and the most knock-downs. When he wants to hit you, he does. Hard.
His accomplishments are unworldly but when Weidman looks across the cage he will view a fellow man shorn of a past or future for the subsequent 25 minutes.
The world title is at stake but when their eyes lock Silva will be fighting to extend his legacy further and Weidman, justifiably the best due to the gold around his waist, is fighting to cement the changing of the guard that he initiated earlier this year.