UFC: Tarec Saffiedine kicks his way to points win over Hyun Gyu Lim in Singapore
Tarec Saffiedine displayed how efficient leg kicks can be in his unanimous decision victory over Hyun Gyu Lim.
By James Dielhenn (@jamesdielhenn)
Last Updated: 05/01/14 8:29am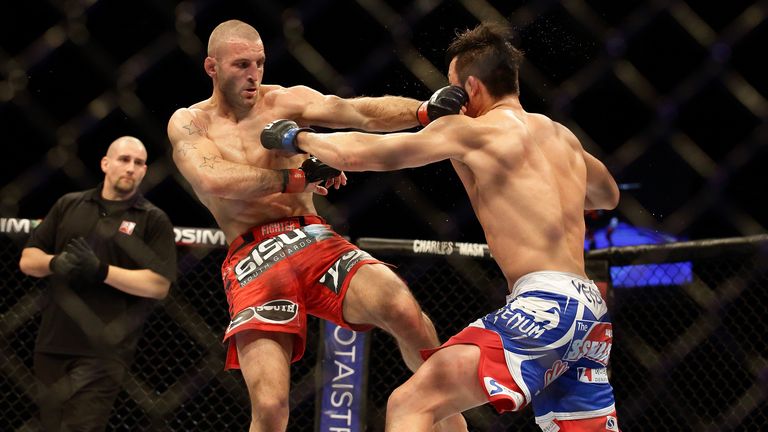 In the UFC's maiden voyage to Singapore on Saturday, Saffiedine continually brutalised Lim's left leg and came close to finishing the fight on numerous occasions.
Lim, a South Korean replacement for the injured Jake Ellenberger, won admiration for his grit and almost earned a sensational comeback in the closing seconds after nearly stopping his otherwise dominant foe.
But Saffiedine's long-awaited debut win was deserved for the accuracy and devastation of his leg kicks. Last week we saw the ugly repercussions of a blocked leg kick but Saffiedine's shots found their mark.
Lim's leg was visibly swollen and bruised and for the final three rounds his immobility allowed Saffiedine to tee off at will.
The Belgian was Strikeforce's final welterweight champion before it merged with the UFC and he immediately looked at home, nullifying Lim's nine-inch reach advantage in the first two rounds.
In the third his right hand floored Lim before the constant leg kicking took its toll. Saffiedine celebrated a stoppage as Lim's thigh gave way but the Asian wouldn't quit.
Lim resembled a sitting duck in the fourth but withstood a flying knee that audibly shook him.
Remarkably, the one-legged Lim landed a flurry of power punches in the closing stanza followed by a knee strike that wobbled Saffiedine. A grandstand finish was prevented by the bell so, much like the UFC's arrival in Singapore, Saffiedine's first outing was a success.