UFC 170: Ronda Rousey knocks out unbeaten Sara McMann in just over a minute
Ronda Rousey took 66 seconds to record her first career knock-out by dispatching the previously undefeated Sara McMann.
Last Updated: 25/02/14 10:16am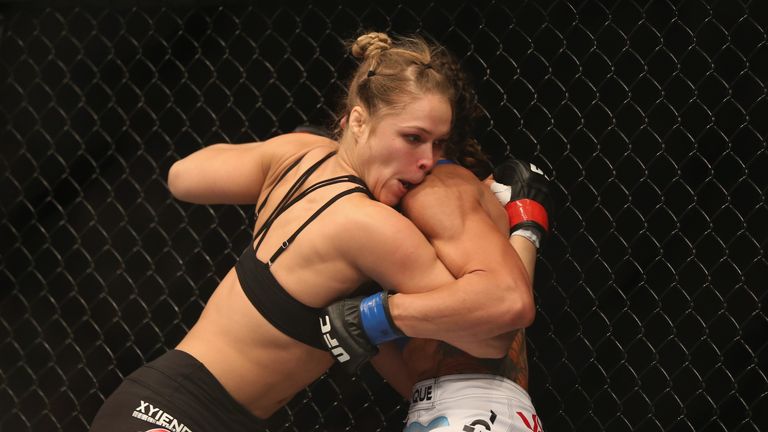 A knee to the liver stopped McMann and the referee stepped in to end the fight - prematurely in the eyes of some, as McMann jumped back up quickly.
The inaugural women's bantamweight champion, yet to taste defeat, is seemingly short of challengers with Cris Cyborg yet to drop into Rousey's 135 pound weight category.
Last night's headliners had both won Olympic medals in their previous professions but in mixed martial arts, Rousey's skill set proved far superior. She ran through McMann remarkably quickly and, for the first time, won by means other than her trademark armbar submission taking her career record to 9-0.
Despite both women being takedown experts (Rousey with judo and McMann with wrestling), the fight was entirely a stand-up contest.
McMann landed a straight right hand immediately but Rousey waded forward into the clinch. She landed a knee which troubled her less experienced foe. After pushing McMann up against the cage wall Rousey sharply dug her knee into McMann's body a second time.
McMann dropped, briefly stopped defending herself, and although she popped back up a few seconds later it was too late.
It was a whirlwind of knees and elbows that was like nothing before displayed by Rousey. She had warned of her striking improvements, particularly with shots to the body.
The UFC's most dominant champion just elevated herself to a new level of expertise.
Elsewhere at UFC 170, Daniel Cormier needed just 76 seconds to knock out Patrick Cummins and Rory MacDonald beat Demian Maia by decision.