UFC Fight Night: John Hathaway ready to take on Dong Hyun Kim in Macau
James Dielhenn speaks to John Hathaway as the British fighter prepares for his first UFC main event.
Last Updated: 27/02/14 11:21am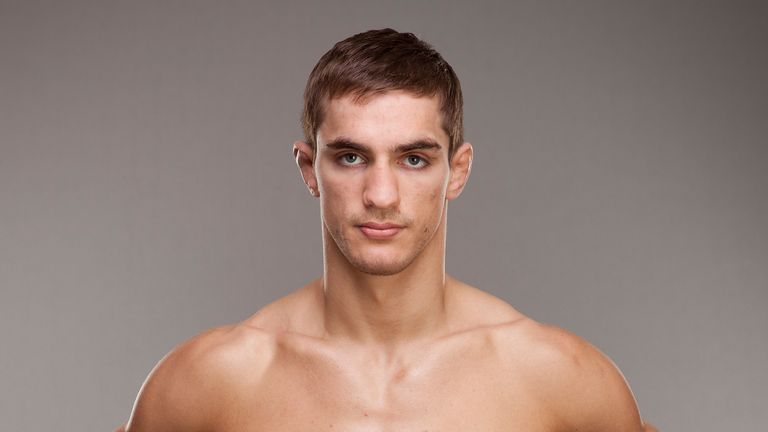 A diagnosis of ulcerative colitis caused a 17 month lay-off but his recuperation to fight Dong Hyun Kim on March 2 at Fight Night: Macao has defied medical opinion.
Hathaway recalled: "My doctor said, 'you may want to think about changing your profession'," Hathaway recalled about the beginning of his painstaking recovery.
"It's a big strain on life but you have to listen to your body."
The 26-year-old welterweight's career was interrupted when symptoms first emerged when training for a fight.
"Two and a half years ago, I was building up to one of my fights and I was getting really ill. The more I trained, I made it worse, so I had to pull out of a fight.
"A year and a half ago, when I was booked [to fight Erick Silva] I had a flare-up.
"I tried to take my normal medication and ease off training but the symptoms got worse. It wasn't going to clear up without stopping," he regretfully sighed.
Illness
The dedication that took a rugby-playing boy from the idyllic, seaside town of Hove into the world's most testing combat arena was reapplied to overcoming his crippling bowel illness.
The journey from a patient's seat in a pessimistic doctor's surgery to standing, fists-clenched, in the Octagon is impressive but the biggest test will be looking back across the cage at him when the bell rings.
"[Ulcerative colitis] is a life test. It's not competition. This fight will be the biggest of my life so far," Hathaway assured about Kim.
The South Korean judo expert "Stun Gun" is coming off a career highlight knock-out and Hathaway will be travelling into unknown territory for his maiden headline occasion. But despite UFC London occuring just a week later, Hathaway would prefer to have his name in lights around Macau.
"Going away and competing makes it a big deal, you can't pass up these opportunities."
Defending Kim's judo throws - a traditionally Eastern art which would delight the home crowd - is key to ensuring Hathaway's return isn't spent on his back.
"Staying out of the clinch with Kim is a great priority," he admitted.
"I've been working on some things to break out of the clinch. My movement and striking have come on a lot. I'm going to be able to hit him.
"Obviously the lay-off has made this more important and I'm looking forward to it more."
The rebuilding process has occurred in doctor's surgeries and gymnasiums so far and required a lifestyle overhaul to accomodate an illness that will never leave Hathaway, but nor will it overcome him. Not until Saturday in a faraway land will that process be complete.