UFC: John Hathaway's return ends in brutal knockout at hands of Dong Hyun Kim
John Hathaway's UFC return ended in him suffering one of the most stunning KO's in memory by Dong Hyun Kim.
Last Updated: 03/03/14 4:19pm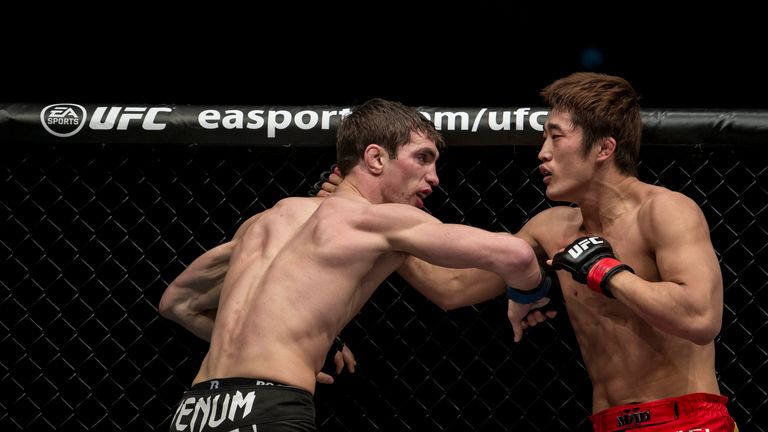 A remarkable spinning elbow connected flush on the unsuspecting Hathaway's head and the audible thud of his felled body ended the main-event of Fight Night on the Chinese island of Macao.
Kim, the South Korean welterweight, will forever etch his name into highlight reels with the vicious method with which he stopped the fight.
As Hathaway lunged forwards attempting an elbow, Kim evaded it by spinning and thrusting his elbow into the Brighton fighter's head. In the blink of an eye it was over.
It is just the second loss of Hathaway's career but the first time he has been stopped.
For all the pain of that sensational technique it will not compare to the past 17 months for Hathaway, for whom a bowel illness has kept him out of competition.
This battle may have ended prematurely in the third round but a year and a half of rehabilitation means Hathaway has won the war.
The fight seemed destined for a knock-out finish when both men started wildly swinging - Hathaway was wobbled and looked in trouble just moments after the opening bell.
He recovered to land some impressive knee strikes and a takedown but the first round was Kim's after a powerful left hand floored Hathaway. The round ended after the Englishman defended some aggressive strikes on the ground.
Such was Kim's composure that he found the time to silence jeering fans between rounds.
More impressive knees asserted Hathaway in the second, but Kim's reckless style continued to trouble him. Another round concluded with Hathaway desperately defending himself on the ground with Kim trying to end the fight.
A minute and two seconds into the third round, Hathaway was stopped by one of the most scintillating techniques ever seen.