UFC Fight Night: Alexander Gustafsson stops home favourite Jimi Manuwa in London
Alexander Gustafsson overwhelmed the previously undefeated Jimi Manuwa with a second round knock-out in London.
By James Dielhenn (@jamesdielhenn)
Last Updated: 09/03/14 10:10am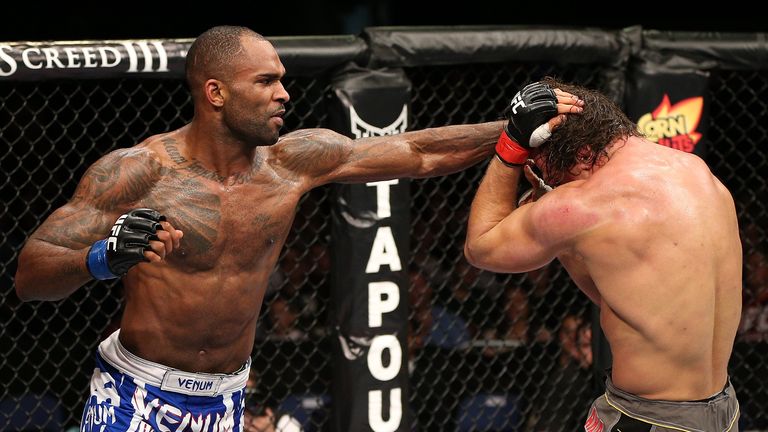 The Swede, a noble savage like his ancestors, finished Manuwa with a flurry of knees and punches reminiscent of the beserker style of Viking fighting.
Gustafsson then demanded a rematch of his narrow loss to light-heavyweight champion Jon Jones as a travelling army of Scandinavians took the roof off the O2 Arena.
He had dominated the first round by quickly securing a take-down to nullify any threat that Manuwa posed with his shuddering strikes.
The Londoner was able to fend off a kimura submission and get back to his feet but only raised the volume of his hometown backing with wild and inaccurate haymakers.
Shortly into the second round, Gustafsson backed Manuwa into the cage wall and landed a knee in the clinch that was ultimately the beginning of the end.
Manuwa, who had never tasted defeat in 14 outings, stood his ground but was clearly hurt. He crashed to the ground after an uppercut and the referee saved him further damage.
Growth
The event kicked off the UFC's Europe, Middle East & Asia (EMEA) expansion which will visit Abu Dhabi, Berlin, Dublin, Stockholm and Istanbul in 2014 with the aim of truly globalising the Las Vegas-based organisation.
As such, mainstays such as commentary duo Mike Goldberg and Joe Rogan and iconic ring announcer Bruce Buffer were absent but the UFC lost none of its razzmatazz with a more British feel featuring a crowd littered with faces from sport and pop culture.
That domestic atmosphere under lavish American banners was best summarised as Neil Seery, a 34-year-old Dubliner who worked part-time in a warehouse until receiving a call-up just a fortnight ago, traded leather with willing slugger Brad Pickett.
Seery lost a tight decision but displayed a spirit - both in the Octagon itself and throughout his unglamorous journey to the big-time - to typify the uniqueness of fighting for a living.
Elsewhere on the card, Michael Johnson out-pointed Melvin Guillard in an all-American co main-event atop a card primarily showcasing Europeans.
Icelander Gunnar Nelson, a snake-like karate stylist, bloodied Russian Omari Akhemedov on the feet before creeping in a fight-ending guillotine choke.
Traditionalists were indulged with a feast of jiu-jitsu to start the evening as Louis Gaudinot submitted Phil Harris and Igor Araujo out-grappled Danny Mitchell.
Luke Barnatt turned to more primal methods - bludgeoning punches - to become the first Brit to win while victorious Swede Ilir Latifi delighted his travelling compatriots in a sign of things to come in the night's main-event.