UFC 171: Johny Henricks takes on Robbie Lawler for vacant welterweight title
Last Updated: 13/03/14 9:58am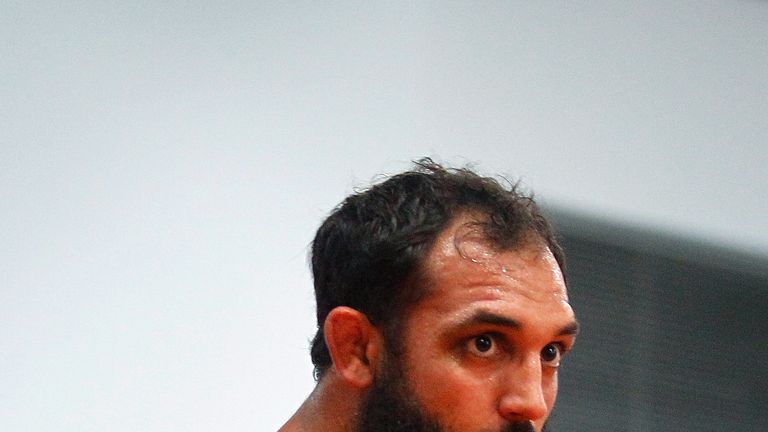 It was four months ago that Johny Hendricks was knocked off his feet – not by Georges St-Pierre when they fought but by the scorecards being announced against him – but this Saturday the ghosts of his failed championship bid can finally be exorcised.
At UFC 171 on Saturday, Hendricks again finds the gold within his grasp but fights Robbie Lawler for whom this opportunity was predicted over a decade ago but hasn't come to fruition until now.
St-Pierre, the welterweight champion for six years, took a career hiatus after controversially edging out Hendricks in November and the belt will now be decided in Dallas, Texas between two gunslingers with shotgun-like left hands.
"The way that me and Robbie fight, it could be a first round fight, a third round fight. It could end with a bang," Hendricks vowed to UFC.com.
The 30-year-old Oklahoman seemingly ended St-Pierre's legendary title reign with a bang last year, turning his face into a purple, swelled mess. The judges saw it differently and St-Pierre's run as champion ended of his own accord after the fight.
"I think I won the fight with Georges," Hendricks recalled.
"That's the worst he'd ever looked after a fight."
Prospect
Before the iconic reign of St-Pierre began, in a landscape wholly unrecognisable to the UFC today, Lawler was a hotly tipped welterweight destined for the top but lost his way – and his job – a decade ago.
"I feel like when I first started in the UFC they wanted this story but there was no story, I was just a young kid coming up and trying to fight," the 31-years-old reminisced to UFC.com.
"With the long road I've had, there's a story there. It's about falling down and getting back up."
He has since found the form of his career with three eye-catching wins since his Octagon return last year.
"There was a reason I was outside of the UFC, I was evolving my skills. I wasn't ready for the huge spotlight and didn't want to hype myself up. I'm ready to do it now."
Opportunity
Since the smoke cleared surrounding St-Pierre's departure, Hendricks and Lawler have cleared their own paths to emerge at the front of the queue of 170-pound fighters.
Lawler said: "You've got a guy who has been around for a long time. A guy who was supposed to be, but never was, but kept grinding and fought his way back up to the top."
Hendricks added: "GSP had what I wanted. I wanted what he carried around to every press conference, every fight.
"It is about the belt. It wasn't about GSP."
For four months the welterweight championship belt has been without an owner and it is the opportunity to etch their names onto it – and into the history books – that brings Hendricks and Lawler together this weekend.