UFC: Matt Brown comes out on top after all-out war with Erick Silva in Cincinnati
Last Updated: 12/05/14 9:35am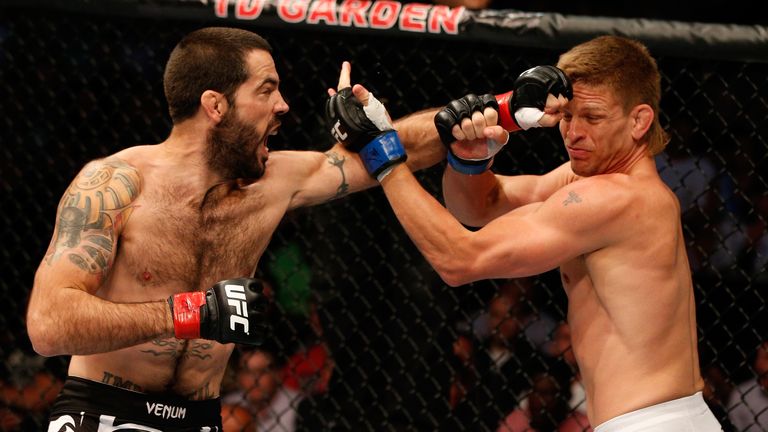 Matt Brown stopped Erick Silva after 12 minutes of a vicious battle at UFC Fight Night in Cincinnati, Ohio that was not for the faint-hearted.
The grisly veteran delivered a career highlight performance with his seventh consecutive win by overcoming Silva's early knock-down with a third-round stoppage, mercifully ending a Fight of the Year candidate.
Brown, at 33 years old, is peaking with his old-school brand of sheer toughness and ruthless grit and is likely to finally compete against a top welterweight contender next time out.
The first round was one of the most thrilling single stanzas in memory.
Silva, renowned for blistering starts and with his star also on the rise, landed a body kick that floored Brown after just 30 seconds.
The Brazilian tried to finish the fight with strikes on the ground and two submissions but with a couple of minutes remaining, Brown staggered to his feet and the pendulum swung.
He waded forward with elbows and knees that immediately hurt Silva. Previously on the verge of victory, Silva wobbled and looked within inches of dropping to defeat.
Elbows
The bell saved Silva and Brown, having been dominated early on, probably won the opening round – although it was ultimately academic.
In the second, Brown's determination to storm forwards with elbows overwhelmed Silva. The Ohio native thundered strikes from all positions but to Silva's credit he stood firm and twice threatened a stunning comeback with body shots.
Silva survived a ground attack where Brown landed crushing punches and attempted a triangle choke but wouldn't see out the third round.
It was stopped at 2:11 after Brown, barely even breathing heavily despite over 10 minutes of frenetic action, connected with knees in the clinch and finished the job with elbows on the ground.
Overall, Brown landed 118 significant strikes to Silva's 25.
It was a revealing display of determination and willpower rather than a technical masterpiece, but Brown is on the verge of a welterweight title shot after improving a previously unremarkable career with a brilliant run of form over the past two years.
Previously on the card in Cincinnati, Costas Philippou knocked out Lorenz Larkin and Daron Cruickshank stopped Eric Koch.