UFC 173 preview: Renan Barao v TJ Dillashaw
TJ Dillashaw recently copied Renan Barao for the benefit of others but now gets his own crack at the Brazilian champ
Last Updated: 22/05/14 3:52pm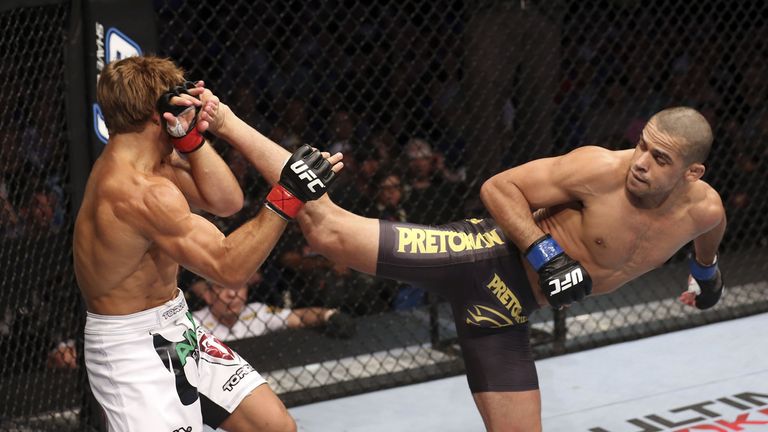 Dillashaw aided Urijah Faber's preparation to fight Barao in February but on May 24 at UFC 173 he will receive his own, improbable shot.
The 28-year-old was scheduled to battle Takeya Mizugaki at the Las Vegas event but after the Chris Weidman v Vitor Belfort main-event fell through, Dillashaw's fortune continued as he was bumped up the card opposite the champion.
Barao's next opponent should have been Raphael Assuncao - who defeated Dillashaw last year - but injury to him means yet another unlikely door has opened.
It is a remarkable opportunity that has come before Dillashaw's time but, having spent so much time studying Barao for the benefit of others, the challenger may be able to level the playing fields.
He is a heavy underdog but possesses more than just a bark, as his fourth-placed ranking justifies.
Streak
Since setting foot in the UFC three years ago, Barao has thundered through the 135-pound division, claiming the interim and then the undisputed championships and dominating the likeliest challenger Faber twice.
After losing his first fight he has gone nine years and 33 fights without a repeat. The Brazilian from Natal has been described by UFC President Dana White as one of the pound-for-pound greats and if Dillashaw, who has just 11 career fights (9-2), can upset him it would be a Cinderella story to remember.
An intriguing subplot is the two gyms that house these opponents.
Barao is a product of Nova Uniao in Rio de Janeiro, widely considered the world's foremost training base for MMA fighters on account of the 27-year-old and his team-mate Jose Aldo, the UFC featherweight champion.
Dillashaw hones his craft at Team Alpha Male - a Californian camp orchestrated by Duane "Bang" Ludwig for lighter weight class competitors. The team had an attention-grabbing year in 2013 but lost numerous championship fights and UFC 173 represents the last time Dillashaw will be prepared by outgoing coach Ludwig.
The Vegas lights have never shone quite so brightly for Dillashaw as he makes the surprisingly short journey from pretending to be Barao in the gym to fighting the real thing.