UFC 173: TJ Dillashaw KOs Renan Barao to win bantamweight title in historic upset
TJ Dillashaw completed one of the all-time great shocks by taking Renan Barao's championship.
Last Updated: 27/05/14 11:20am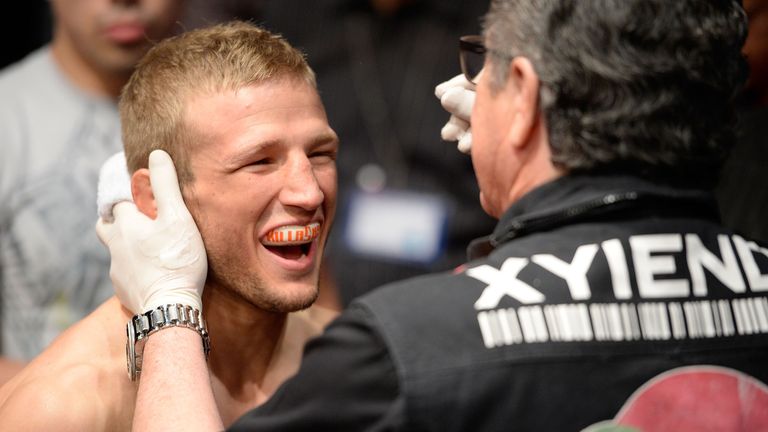 Dillashaw remarkably thrashed Barao for every minute of the four-and-a-half rounds until the stoppage, even coming close to a knock-out in the first period, before claiming gold with a dramatic late flurry when it may have been easier to let the clock tick.
As a 9/1 underdog in some Las Vegas bookmakers on Saturday night, Dillashaw's stunning win puts him alongside the iconic moment when Matt Serra beat the overwhelming favourite Georges St-Pierre in 2007.
Having fought just 12 career bouts to Barao's 34, Dillashaw was a relative novice stepping into the cage and performed to a level that he has never reached before.
An uppercut and a straight left moments in showed he meant business but Barao - the brilliant Brazilian riding a fearsome undefeated streak of 33 - retained an aura of invincibility.
That was shattered midway through the first when a looping overhand right almost ended the night. Dillashaw flattened Barao in a manner never seen before and the champion did well to return to his corner wobbly and battered rather than defeated.
Crisper
The second round showed it was no fluke. Dillashaw was quicker and crisper, Barao cautious and nervous.
The 28-year-old Californian maintained his relentless pace and Barao couldn't catch up - in the third the champion's surprised facial expressions were covered by bruises as the 15 minute mark arrived and a historic moment grew nearer.
Barao was exhausted by the fourth and Dillashaw - a wrestler by trade but reaping the rewards of Team Alpha Male's striking improvements - continued to hit harder and cleaner as the finish became likelier.
The champion showed grit but his techniques were proved flawed. He repeatedly missed the spinning kick that finished Eddie Wineland last year before Dillashaw closed the show with a bang.
A head kick - utilised successfully all night - did the real damage and a left hook put Barao down. Ground strikes were elementary and the referee stepped in.
Dillashaw, a steadily improving bantamweight with a respectful if unspectacular record so far, had taken his Vegas spotlight moment with an enduring display that left no doubt as to his merits. His coach, Duane "Bang" Ludwig, was poignantly moved to tears his last outing as Alpha Male's coach.
Previously at UFC 173, Daniel Cormier dominated and submitted Dan Henderson, Robbie Lawler stopped Jake Ellenberger, Takeya Mizugaki edged Francisco Rivera and James Krause beat Jamie Varner due to injury.