UFC: Gegard Mousasi and Stipe Miocic victorious in Germany and Brazil respectively
Gegard Mousasi and Stipe Miocic steamrolled opposition in separate hemispheres as the UFC held two shows on one night.
Last Updated: 01/06/14 8:48pm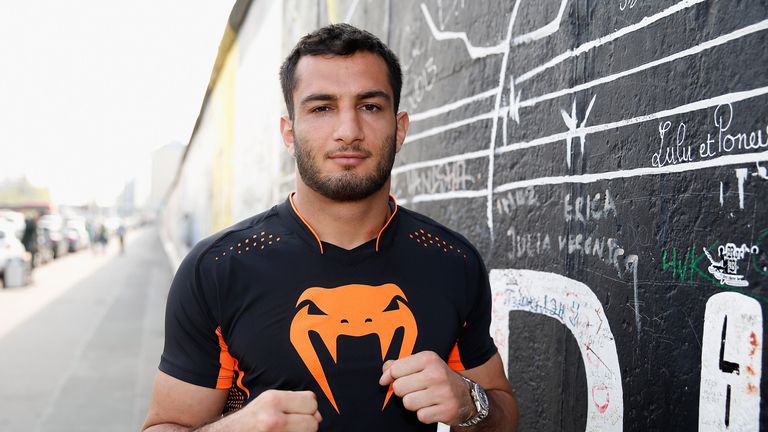 In Berlin, Mousasi stifled Mark Munoz and submitted him in the first round before Miocic needed just 35 seconds to stop Fabio Maldonado in Sao Paulo, Brazil.
The expansion of the organisation meant mainstays such as president Dana White and ring announcer Bruce Buffer were split between the two events in a small step towards the UFC's eventual plan of hosting multiple fights simultaneously throughout the world.
Fight Night in Berlin, Germany
In the German capital, Dutchman Mousasi prevailed in a one-sided middleweight clash over Munoz to catapult himself into top-level contention at 185 pounds.
He was able to nullify Munoz's takedown and choke him out after 3:57 of the opening round.
The American Munoz hoisted Mousasi into the air in an early exchange but failed to complete his takedown and was scrambling from then onwards.
Mousasi repeatedly avoided being taken to the ground using elbow strikes to warn Munoz off.
Another attempted throw by Munoz ended with Mousasi on top and he slickly controlled his opponent and submitted him with a rear naked choke.
TUF: Brazil finale in Sao Paulo
Miocic, the American heavyweight of Croatian descent, needed much less time in a frighteningly quick performance.
After stinging Maldonado after just a few seconds, he landed a straight right hand that bludgeoned the Brazilian and the fight was stopped after less than a minute.
Maldonado looked every part the last-minute replacement, having bravely replaced Junior dos Santos with a fortnight's notice for his first UFC fight at heavyweight.
He had weighed in at 225 pounds to Miocic's 238 but the difference looked larger in the short time they shared the cage.