Rio reports
Sky Sports News' Orla Chennaoui has been in Brazil as the country starts to gear up for hosting the World Cup and Olympics
Last Updated: 30/11/12 8:02pm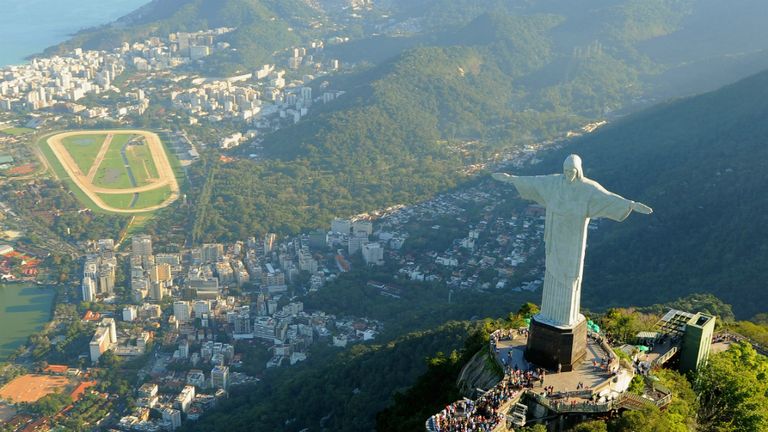 The World Cup returns to Brazil for the first time in over half-a-century in 2014 and is followed two years later by the Olympics Games in Rio de Janeiro.
With the build up to both events starting to gather pace, Orla Chennaoui has been out to Rio to file reports on a range of issues.
Twin passions
Orla finds out how religion and football dominate daily life in Brazil, speaking with Fluminense fans about the team's relocation while their Maracana ground is revamped for the World Cup and hears from some dissenting voices who are losing their homes due to the building project.
Click here to watch the full video.
Security issues
Orla goes beyond the postcard perfection of Rio's tourist haunts to visit some of the poorer areas of the city. In the favelas she learns about how the authorities are trying to make things safer and gets a range of views on whether the plan is working.
Click here to watch the full video.
Trip advisor
Orla discovers what travelling fans can expect, from a penthouse overlooking the Copacabana beach to more modest options such as budget hostels, and gets into the party spirit by trying out the local food and drink, including a Caipirinha cocktail.
Click here to watch the full video.
Leaving a legacy
Orla grabs a quick word with Novak Djokovic as the world number one is mobbed by excited fans while opening the first public tennis court in the favela of Rocinha and examines what sort of legacy the people of Rio can expect from hosting World Cup matches and the Olympics.
Click here to watch the full video.
View from above
Orla takes to the skies in a helicopter to get a different perspective on how preparations are going. From above, she is able to get an overview of a gridlocked city struggling to revamp its transport infrastructure, as well as seeing building projects that have fallen behind schedule.
Click here to watch the full video.
Lord of the rings
Orla catches up with Lord Coe for a sit-down interview and he tells her how the organisers of the Rio Olympics can benefit from his experience in London. Coe is in Brazil to attend the official International Olympic Committee debrief of London 2012.
Click here to watch the full video.
Blade and soul
Orla pays a visit to see Paralympic gold medallist Alan Oliveira in training to find out how he is getting on after his T44 200m victory in London. The Brazilian speaks about the row over the length of his blades which was sparked by comments from his idol Oscar Pistorius after he had beaten the South African into second place.
Click here to watch the full video.
For more, follow @SkyOrla and @SkySportsLia on Twitter.