Jessica Ennis-Hill on injury, Commonwealth Games and Sky Academy
Jessica Ennis-Hill tells us about her fight for fitness and what keeps her motivated during the winter.
Last Updated: 18/12/13 2:34pm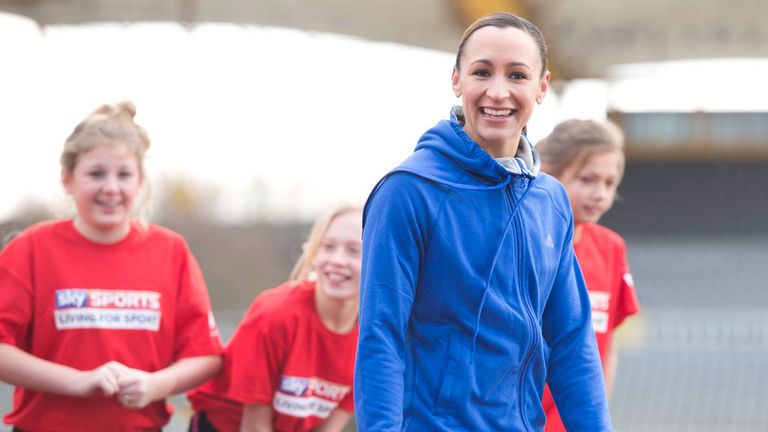 Over the coming months, skysports.com will track her return to form ahead of the Commonwealth Games in Glasgow next summer - and lift the lid on her dedicated training regime which has taken her to the top in heptathlon.
In the first of the series, Jess tells us about a frustrating 2013, what keeps her motivated during the cold winter months and why inspiring the next generation is important to her.
I recently started doing some running training which was great. I can see the light at the end of the tunnel now after the injury and I'll be able to start increasing things week on week from here.
I'm definitely coming out of the other side of it now, which is a relief!
I'm doing rehab work every day but I had been restricted to bike sessions, pool sessions and weights which wouldn't load the Achilles in a negative way, so it's great to get back out on the track.
It has been really frustrating this year - especially after 2012 - and missing the world championships in the summer was so disappointing.
But I've had injuries before and you just have to make sure you treat them with respect and do what you need to do to get back to your best. That means lots of rehab, rest and then building up into full training slowly.
I didn't think it was going to take this long and I'm still not there yet but I just want to get going and get on with it now.
I'm keen to start doing the running sessions with the rest of my training group soon - although at the same time I know as soon as I start I'll be like 'ah! It's cold and horrible!'
I don't do warm weather training and never have. Instead, me and my team do most of our stuff at home in Sheffield and Leeds.
That's a system we've had forever really and I'm not planning on making any big changes, I'm just going to stick to what I normally do.
I won't be short on motivation this winter, though, with the Commonwealth Games in Glasgow in 2014.
You always need something to focus on each year and luckily in athletics every year is a big year - it's either the world championships, the Commonwealth Games, the European championships or the Olympics.
With the Commonwealths in Glasgow there's an added incentive and something to work towards over the coming months.
I'm still hoping to do an indoor season, too, although that's not set in stone yet. If everything goes well I should be back competing early next year - fingers crossed!
Disappointing
However, one big change to my training routine is the closing down of Don Valley Stadium.
I used to train there regularly and for it to be shut is a big blow. I'm so disappointed the city has lost that facility but I'm hoping there will be more investment in the track at Woodbourn Road, which has recently reopened.
Thankfully we also have the Institute of Sport in Sheffield, which is incredible and a great place for me to train.
But we had Don Valley for so many years and there needs to be a facility for all the kids who want to achieve something similar to myself or just be active and do athletics.
Inspire
Inspiring the next generation and giving them what they need to fulfil their potential is really important to me.
That's why I'm a Sky Sports Living for Sport ambassador.
The Sky Sports Living for Sport programme - which is a free initiative and sends athlete mentors to schools across the country to encourage kids to get involved in sport - is brilliant.
It's such a fun thing to do, to go into schools and give something back to kids who want to get involved in sport in some way. It's so rewarding and not any effort to do because it's so much fun.
Sky Sports Living for Sport is now under the umbrella of the Sky Academy, which launched recently to provide opportunities in sports, the arts and television for young people.
To have people like David Beckham and mentors from a range of different sports on board, who all offer something different, is really good for the campaign - and great for the kids who'll profit from the Sky Academy.
Click here to watch the Jessica Ennis-Hill episode of My Special Day, where a sporty young girl, recovering from leukaemia, gets to meet the Olympic champion.