Rabobank Hockey World Cup: England's men and women confident of claiming podium finishes
Last Updated: 26/05/14 2:20pm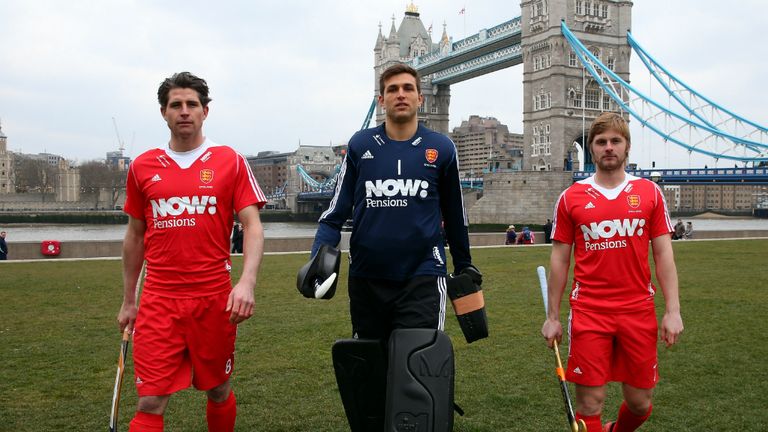 England's men and women both travel to The Hague for the 2014 Hockey World Cup in buoyant spirits with sights set on podium positions.
The women claimed bronze at the 12th edition of the tournament in Argentina four years ago, while the men's team finished fourth after losing 4-3 in a third-place play-off with the Netherlands.
England women head into the tournament as the current world No 3 after claiming silver at the 2013 EuroHockey Championships in Belgium and forward Alex Danson understands success comes with a level of expectation.
But Danson, who has scored 38 goals in her 148 appearances for England, believes they are well equipped and already has eyes on a top-four finish.
"We're a team with really high ambitions; we try to train how we want to play," she told Sky Sports.
"Certainly we're top three in the world and that comes with pressure, but we are prepared.
"We'll be looking to go game-by-game but the semi-final is definitely in our sights. When you get to the semi-final it's the best team on the day and we're confident."
Before England's women can get their World Cup campaign underway, starting against the United States on Sunday, the men will showdown with Spain on Saturday.
Comfortable
England's men arrive in the Dutch region a year after finishing fourth in the EuroHockey Championships, again losing a third-place play-off to the Netherlands.
After claiming gold in 2009 and bronze in 2011, defeat at the EuroHockey Championships may have been seen as a setback.
However, following a third-place finish in the 2012-14 Hockey World League goalkeeper George Pinner insists England are more confident than ever heading into the World Cup.
We've become a lot more comfortable with going to a tournament saying we're going to win a medal.
George Pinner
"We've become a lot more comfortable with going to a tournament saying we're going to win a medal," he claimed.
"In the past, we've maybe lowballed it a little bit but we now say we're going there and we're going to win a medal."
Pinner, who has won 47 caps since his debut at the 2011 Champions Trophy in New Zealand, was also quick to dismiss the dangers of being a goalkeeper on the world stage.
"There's popular belief that goalkeepers are nutters and if you ask the other guys in the squad they'll reaffirm that but it's completely untrue, I'm the one wearing a helmet and full padding designed to take the impact of a ball travelling at 70 miles-per-hour," he added.
"They're the guys who just stick a gum guard and pair of shin pads on and I can tell you when it hits them it hurts a lot more than when it hits me, I'm the sensible one in the group."
Sky Sports 3 HD's live coverage of the Hockey World Cup starts this weekend with England's men taking on Spain from 4pm on Saturday before England women's first match against the United States from 11:30am on Sunday.