Hockey World Cup: England lose to Australia and must now beat Belgium to progress
Last Updated: 07/06/14 8:51pm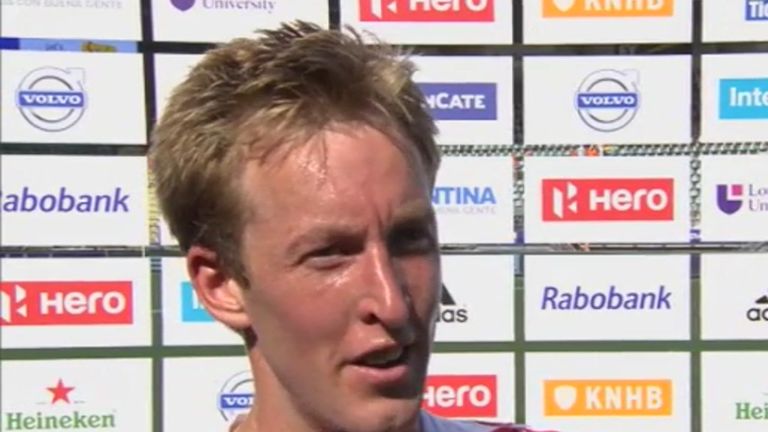 England men's hockey team must beat Belgium in their final pool match to qualify for the World Cup semi-finals after suffering a 5-0 thrashing by Australia on Saturday.
England went into the clash unbeaten but were no match for the Pool A leaders, who went ahead via Matt Gohdes after just 25 seconds.
Australia then extended their lead to 4-0 at half-time thanks to efforts from Liam De Young, Jamie Dwyer and Kieran Govers.
And the world No 1 side made sure of their win when Aran Zalewski added another three minutes after the restart.
The result saw Australia qualify for the last four with four wins out of four, while England must now beat Belgium on Monday to leapfrog them into second.
Speaking after the game, England head coach Bobby Crutchley told England Hockey's official website: "We didn't start well and that's frustrating.
"When you're forced to chase the game against someone like Australia it becomes harder and harder. When you're chasing you are sometimes not quite good enough on the ball and in those hot conditions it becomes a real struggle. We then lost another goal before half time through a lack of concentration and that really put us on the back foot.
"The good thing is our players really stood up in the second half and worked hard. They stood together which was great but we have to be far better at the start of a game and much more competitive."
We'll go away and pick ourselves up from this. It's disappointing now, but ultimately it makes no difference going into the Belgium game.
England skipper Barry Middleton
No difference
Skipper Barry Middleton issed a rallying call after the defeat, saying: "We'll go away and pick ourselves up from this. It's disappointing now, but ultimately it makes no difference going into the Belgium game.
"We know what we have to do. We've played them enough over the last twelve months to know what to expect and I'm sure they know what to expect from us.
"It comes down to who plays well on the day and who fights in and around both circles, which is where we let ourselves down today. We need to make improvements on those things for Monday."
Belgium are two points ahead of England thanks to a 5-2 win over Spain, which included a brace from Tanguy Cosyns.
Saturday's other Pool A game saw India beat bottom side Malaysia 3-2 to post their first win of the tournament and climb into fourth in the table.
In women's action, second half strikes from Kim Lammers and Naomi van As saw hosts Netherlands beat Australia 2-0 in Pool A and qualify for the semi-finals.
New Zealand and South Korea kept their qualification hopes alive by beating Japan 4-1 and Belgium 4-2 respectively, meaning it is tight for the second semi-final spot going into the final Pool games, which pit Netherlands against South Korea, while Australia take on New Zealand.
Australia currently sit two points ahead of South Korea, with New Zealand a further point behind.
Men's results: England 0-5 Australia, Spain 2-5 Belgium, India 3-2 Malaysia
Women's results: South Korea 4-2 Belgium, Japan 1-4 New Zealand, Australia 0-2 Netherlands