Longines Royal International Horse Show: Beezie Madden wins King George V Gold Cup
Last Updated: 03/08/14 8:46pm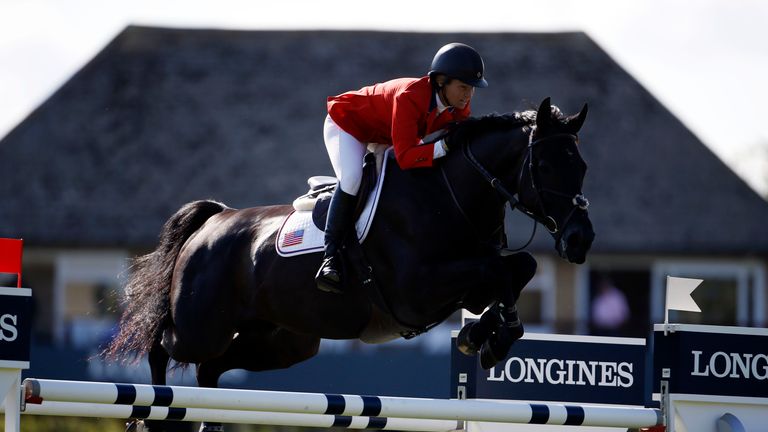 Beezie Madden became the first female winner of the Longines King George V Gold Cup after a thrilling climax at Hickstead on Sunday.
The American former world No 1, who underwent surgery to her collarbone less than three months ago, was last to go in a 14-horse jump-off and guided Cortes C home in 46.01 seconds.
Women riders were not allowed to enter the Gold Cup, British showjumping's most prestigious class, until six years ago, but Madden now follows an illustrious list of champions such as David Broome and Harvey Smith.
Madden's performance denied gifted Irish teenager Bertram Allen a famous victory after the 19-year-old set a scorching pace on Romanov, clocking 47.09s.
Wexford-born Allen, who is only three years older than his horse, looked to have done enough after he tamed a testing jump-off track.
But 50-year-old Madden had other ideas as Cortes C backed up his Nations Cup display with another world-class performance.
Germany's Marcus Ehning and Pot Blue took third on 47.91, with Australian James Paterson-Robinson (Boris III) fourth and Ireland's Shane Breen (Golden Hawk) fifth.
British hopes
Michael Whitaker, a four-time King George winner, was the highest placed British rider in seventh spot with Amai, while Robert Whitaker finished 13th aboard Catwalk IV.
"It has been a fantastic week. We love coming here, and it has gone really well for us," Madden said.
"We were all kind of jealous that we couldn't get to do this class (until 2008), so it is great to win it. I can't believe the horse has done what he has done this week. He really pulled through. He rose to the occasion.
"I have been watching Bertram win classes, and I know how fast he can go, but my horse has a huge stride and he covers the ground so quickly."
Allen, who celebrated his 19th birthday only two days ago, served further emphatic notice of a remarkable talent and temperament by threatening to take the Longines Royal International Show's headline class.
"I don't get so nervous. It is great to be able to go into these big arenas. It's really special," Allen said.
"The horse is jumping absolutely super. The older horses love these big grass arenas, and he came out today fit and fresh. It is an absolute honour for me to be in this company of rider. It's unbelievable for me."