UK Sport braced for Tokyo 2020 funding cut due to falling National Lottery sales
By PA Sport
Last Updated: 29/11/16 6:02pm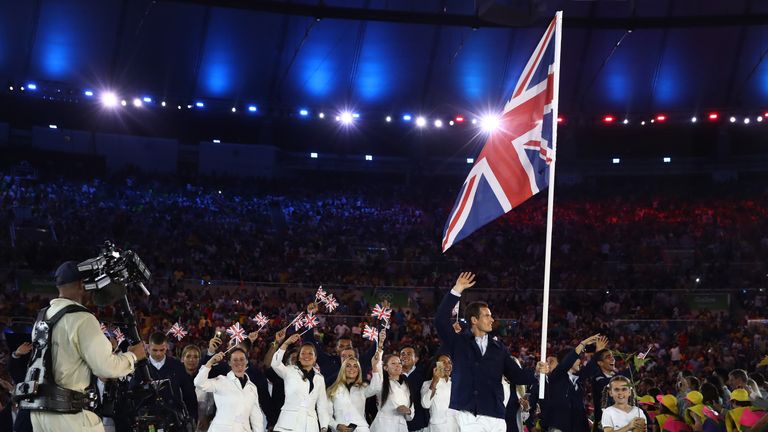 Great Britain's hopes of repeating the success of Rio 2016 in Tokyo in four years' time could be significantly reduced by falling National Lottery ticket sales, UK Sport has warned.
The amount of money each Olympic and Paralympic sport will have to spend in the build-up to Tokyo will be decided by the funding agency next week, with a public announcement on Friday, December 9.
UK Sport, which invested approximately £350m in elite sport in the four years before Rio, gets 70 per cent of its money from the National Lottery and 30 per cent direct from the exchequer.
Earlier this month, Camelot, the company that operates the National Lottery, revealed that its half-year revenues had fallen by almost 6.5 per cent from 2015 and admitted the next six months will be "challenging".
Speaking to reporters at its World Class Performance Conference in London, UK Sport chairman Rod Carr said this drop in sales could cost Team GB and ParalympicsGB up to £30m.
"It could be that over four years, yes," said Carr, who stands down as chairman next April after four years in the role.
"We are not panicking here - what we are seeing here is a trend in the Lottery and that has been acknowledged by Camelot.
"The issue for UK Sport is we have to make some difficult decisions."
Carr explained that UK Sport started its planning for Tokyo in February and has been consulting with the various national governing bodies about the "tighter budget" to make sure there is "maximum efficiency".
"What everyone will see is that very many of the sports may well have less funding but that's maybe because of the efficiencies that have been made," said Carr.
The former chief executive of the Royal Yachting Association said UK Sport effectively receives a "cheque in the post" from Camelot every month and the current projections are for an annual reduction of "£6m to £8m".
This will cause considerable alarm throughout British sport, which has been on a high ever since GB's athletes finished second in the medal table at both the Olympic and Paralympics in Rio, winning more medals in more sports than they had in over a century.
That had led some to hope that more cash could be directed at team sports, which have traditionally been a weakness for Team GB and ParalympicsGB. This, however, appears unlikely now.
Last year, the then Chancellor George Osborne increased the exchequer part of the funding package by 29 per cent to fill a shortfall in UK Sport's finances as it entered the last year of the four-year Olympic cycle but his successor Philip Hammond is understood to be reluctant to repeat that generosity.
Carr said UK Sport was in talks with Government about other forms of help, such as tax breaks or an offer to underwrite the lottery deficit in the hope that ticket sales will rebound, but admitted that time was running out before next week's board meeting.
"If we don't get a solution before next Wednesday from Government the reality is that yes we are going to have to make some hard decisions," he said.
"We understand, we are not stupid, we know what's going on, (but), on the other hand, it's a relatively small amount of money, £6m or so a year."
Upgrade to Sky Sports now and get 12 months half price. Hurry, offer ends December 4th!