NBA: Rudy Gay inspires Memphis Grizzlies; San Antonio Spurs beat Houston Rockets
The Memphis Grizzlies kept on rolling as Rudy Gay's 28 points lifted them to a 96-89 win over the New Orleans Hornets.
Last Updated: 08/12/12 7:04am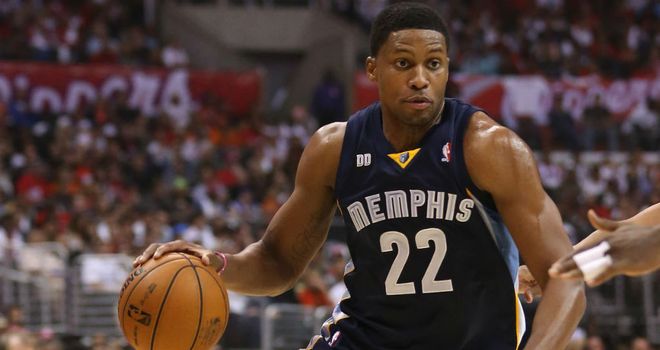 Gay's season-best performance and 16 points from Quincy Pondexter against his old team saw the Grizzlies move to 14-3, the best record in the NBA.
Ryan Anderson, Austin Rivers and Brian Roberts had 15 points apiece for the Hornets, who suffered their 11th loss in 13.
While the Grizzlies have the league's best winning percentage, they have not won as many games as their Southwest rivals, the San Antonio Spurs, who eased past the Houston Rockets 114-92 for their 16th victory of the season.
The Spurs were never behind and led by as many as 33 at one point, led by Tony Parker's 17 points.
Parker was one of six San Antonio (16-4) players in double figures, while James Harden, with 29 points, was the only man to score more than 10 for the Rockets.
The Oklahoma City Thunder also earned their 16th win thanks to impressive performances from Kevin Durant and Russell Westbrook.
The Philadelphia 76ers had a big day from Evan Turner as they squeezed past the Boston Celtics 95-94 in overtime.
Joakim Noah dominated the Detroit Pistons to lead the Chicago Bulls to a 108-104 victory, while Kevin Love was on song for Minnesota as his 36 points 13 rebounds lifted the Timberwolves to a 91-73 victory over the Cleveland Cavaliers.
The Golden State Warriors beat the Brooklyn Nets 109-102 thanks to 30 points and 15 boards from David Lee, and Paul Millsap scored 20 points to help the Utah Jazz overwhelm the Toronto Raptors 131-99 while the Sacramento Kings saw off the Orlando Magic 91-82.
The Denver Nuggets beat the Indiana Pacers 92-89, the Atlanta Hawks overcame the Washington Wizards 104-85 and the Milwaukee Bucks were 108-93 victors over the Charlotte Bobcats.