NBA: Tim Duncan leads San Antonio Spurs to win over Cleveland Cavaliers
Tim Duncan had 30 points and 12 rebounds to lead the San Antonio Spurs to a 119-113 win over the Cleveland Cavaliers.
Last Updated: 17/03/13 7:53pm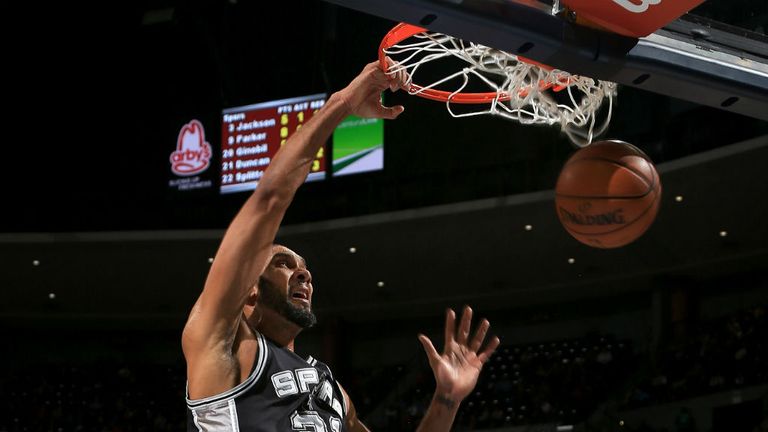 Kawhi Leonard also had a big day with 24 points and 13 boards, while Manu Ginobili had a double-double of his own with 14 points and 10 assists for the Western Conference-leading Spurs. Wayne Ellington paced the Cavaliers with 21 points.
LaMarcus Aldridge scored 31 points and grabbed 12 rebounds to lift the Portland Trail Blazers to a 112-101 win over the Detroit Pistons. JJ Hickson added 18 points and 15 boards for Portland, while Rodney Stuckey scored 32 points for the Pistons.
Wizards beat Suns
Martell Webster poured in 34 points - the first 30-point performance by a Washington player this season - as the Wizards beat the Phoenix Suns 127-105 for their third straight win. Michael Beasley led the Suns with 21 points.
Jrue Holiday had 27 points and 12 assists in the Philadelphia 76ers' 98-91 win over the Indiana Pacers. Spencer Hawes contributed 18 points and 16 rebounds for the Sixers, while Roy Hibbert scored 25 points for the Pacers.
Elsewhere, the Boston Celtics were 105-88 winners over the Charlotte Bobcats and the Utah Jazz overcame the Memphis Grizzlies 90-84.