NHL: Five-star Bailey
Josh Bailey starred as the Islanders beat the Penguins, while play-off hopefuls New Jersey and Chicago both won their games.
Last Updated: 30/03/12 6:58am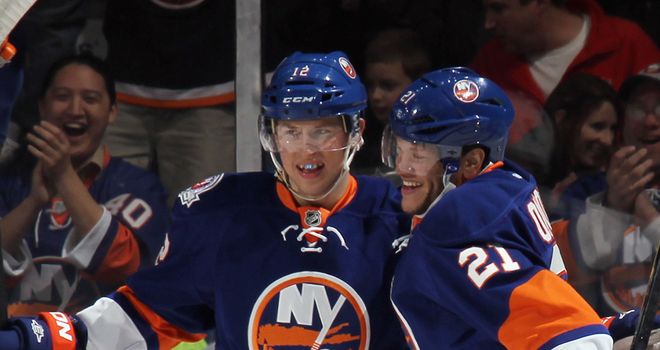 Josh Bailey had two goals and three assists for a five-point game as the New York Islanders beat the Pittsburgh Penguins 5-3 in NHL action on Thursday.
Bailey became the first Islander to score five points in a home game since 1996, while Kyle Okposo also scored two goals to reach 20 for the season. Marty Reasoner scored the Islanders' opener, while Pascal Dupuis and Jordan Staal tallied for the Penguins.
The Boston Bruins battled back from two goals down before falling 3-2 to the Washington Capitals after a shoot-out. After two goalless periods, Dennis Wideman and Marcus Johansson put the Caps 2-0 up before David Krejci and Andrew Ference scored in the last four minutes to level it up.
Decisive
Brooks Laich then scored the decisive goal in the fourth round of the shoot-out. That result meant New Jersey's 6-4 win over the Tampa Bay Lightning was not enough to clinch the Devils' place in the post-season.
The win, which came despite a hat-trick from Tampa's Ryan Malone, would have seen them into the play-offs had Boston beaten Washington.
The Chicago Blackhawks edged closer to sealing their post-season spot with a 4-3 shoot-out win over the St Louis Blues.
Phoenix had to lose in regulation against the San Jose Sharks for the Blackhawks to progress, but the Coyotes won 2-0 thanks to two goals from Radim Vrbata.
The Philadelphia Flyers beat the Toronto Maple Leafs 7-1 as Brayden Schenn and Wayne Simmonds both scored two, while the Minnesota Wild edged out the Florida Panthers 3-2 in overtime.