NHL: San Jose Sharks suffer first defeat of season at hands of Nashville Predators
The San Jose Sharks fell to their first defeat of the season as the Nashville Predators clamed a 2-1 shootout win.
Last Updated: 03/02/13 9:24am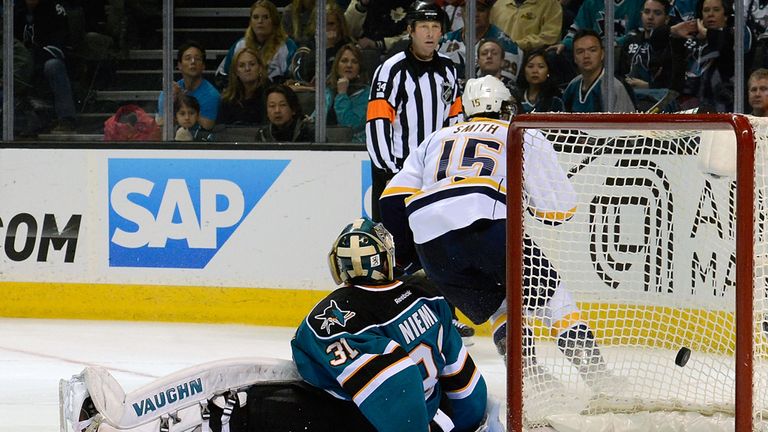 Sergei Kostitsyn put the Predators ahead a minute into the third period, but Martin Havlat levelled to take the game into overtime.
Neither side could find a winner in the extra period, then Smith did the business in the shootout, bringing to an end the Sharks' run of seven wins to start the season.
Elsewhere, Rick Nash and Carl Hagelin scored in the third period as the New York Rangers beat Tampa Bay 3-2 to halt the Lightning's five-game winning streak.
Patrick Kane ensured the Chicago Blackhawks overcame their shootout hoodoo as they beat the Calgary Flames 3-2.
Robert Bortuzzo got his first NHL goal to help the Pittsburgh Penguins to their first home win of the season, 5-1 over the New Jersey Devils.
Sidney Crosby, Chris Kunitz, Brandon Sutter and Kris Letang also scored for the Penguins, while the Devils suffered their first defeat in regulation this season.
Chris Bourque scored the only goal as the Boston Bruins edged out the Toronto Maple Leafs 1-0, while Nick Bonino scored a hat-trick for the Anaheim Ducks, who claimed a 7-4 win over the struggling Los Angeles Kings.
Rene Bourque and David Desharnais scored two apiece as the Montreal Canadiens beat the Buffalo Sabres 6-1.
Artem Anisimov netted twice as the Columbus Blue Jackets overcame the Detroit Red Wings 4-2 and Mike Smith made 17 saves for the shutout as the Phoenix Coyotes beat the Dallas Stars 2-0.
The Philadelphia Flyers scored three powerplay goals on their way to a 5-3 win over the Carolina Hurricanes and the Colorado Avalanche beat the Edmonton Oilers 3-1.