NHL: Shea Weber at the double for Predators as Rangers get better of New York rivals
Shea Weber scored twice - including the game-winner in overtime - as the Nashville Predators beat the New Jersey Devils.
Last Updated: 01/02/14 9:08am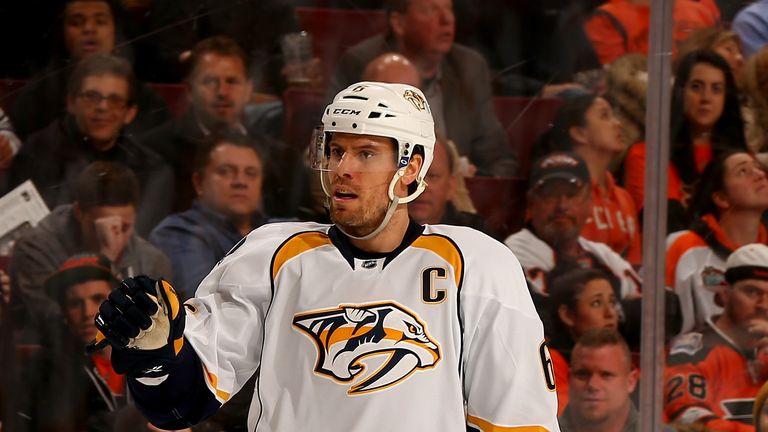 The Predators had left it late to force the extra period, David Legwand having levelled things up at 2-2 with just 11 seconds left to play in the third.
Patrik Elias and Jaromir Jagr had scored in the second to put the Devils on top after Weber had broken the deadlock. He also struck again at 1:29 into OT to settle the see-saw contest in Nashville's favour.
Elsewhere in Friday's NHL action, goals from Brian Boyle, Derick Brassard, Brad Richards, and Ryan McDonagh gave the New York Rangers their second win over the New York Islanders in as many games.
Kyle Okposo had tied it at 1-1 for the Islanders, who also lost two nights previously at Yankee Stadium. However, the Rangers struck three times in the third period, including a late empty-netter from McDonough.
Patrick Eaves scored the only goal of a seven-round shootout to give the Detroit Red Wings a hard-fought 4-3 win over the Washington Capitals.
Detroit netminder Jimmy Howard stopped 26 shots in his first game back after being out for three games with a knee injury, while Alex Ovechkin and Jason Chimera had a goal and an assist each in a losing cause.
The Winnipeg Jets needed a pair of goals from Devin Setoguchi to defeat the Vancouver Canucks 4-3.
Meanwhile, the Carolina Hurricanes saw Jeff Skinner record his team-leading sixth game-winning goal in their 3-1 victory over the St. Louis Blues.