UFC 163 'Korean Zombie' Chan-Sung Jung prepared to do battle with Jose Aldo in Rio
Home hero Jose Aldo is set to defend his UFC featherweight title against Chan-Sung Jung in Rio de Janeiro on Saturday.
By James Dielhenn
Last Updated: 02/08/13 11:52am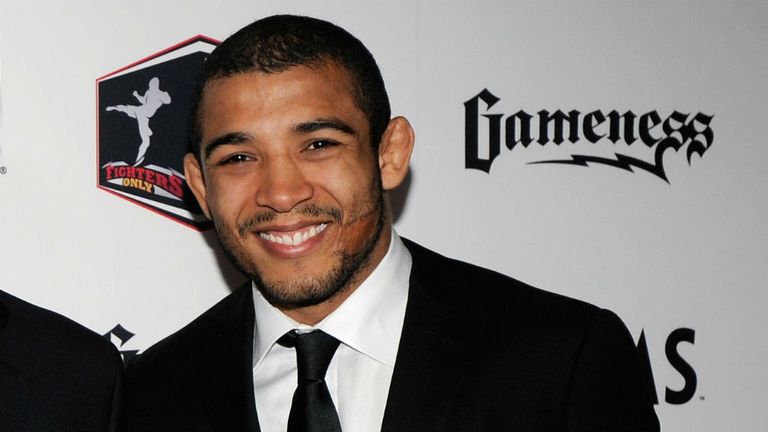 Cultures, nationalities and languages separate the two combatants but they share a spectacular, video-game style of fighting that means this featherweight world championship contest could end in the blink of an eye.
From the champion Aldo's knockout power, which seems implausible for a 145-pound man, to Jung's propensity to walk unscathed through punches that earned him his Korean Zombie moniker, Saturday's fight is something dreamed up by fantasists and has arrived due to an alignment of fate.
Anthony Pettis was scheduled to challenge Aldo but his injury meant the UFC called upon Jung - one of the organisation's most popular fighters due to his uniquely reckless methods inside the cage - as a replacement
It seems appropriate that the journey to Rio resembles Jung's growth from a novelty attention-grabber to a legitimate contender who has finished three consecutive fights.
"It's very far. A flight to Brazil lasts over 30 hours. I'm going to Brazil for the first time," the challenger told UFC's official website.
"If I become champion I think UFC will become very popular in South Korea. We need a big star. I hope to be that star."
Worldwide the Korean Zombie's fanbase is huge but on Saturday he will be the enemy.
Home support
"To fight at home is always wonderful," said Aldo, who is from Manaus on the outskirts of Rio.
Last time he fought here - last year's knockout of Chad Mendes - he emotionally ran into the crowd to celebrate.
He added: "The crowd is always the best thing to motivate me. It's going to be sold out, everyone chanting my name."
The warfare inside the Octagon will be pulsating viewing - Jung's wild and unpredictable offence means he sinks or swims with no grey area.
Aldo is undefeated in 15 fights, including five title defences, due to his measured and calculating strikes. His leg kicks, the result of a football background, have almost crippled opponents in the past.
Not that it worries Jung, who vowed: "I don't know if any of Aldo's previous opponents had similar feelings, but I would give my life to be the champion."
A world title is on the line at UFC 163 and so are two great fighting philosophies as the ancient Asian spirit of combat arrives in Brazil, the modern birthplace of mixed martial arts.