UFC: Chael Sonnen aiming to get back on track with bout against Mauricio 'Shogun' Rua
Chael Sonnen will attempt to put himself back in the middleweight title picture with a win over Mauricio 'Shogun' Rua.
By James Dielhenn
Last Updated: 16/08/13 3:52pm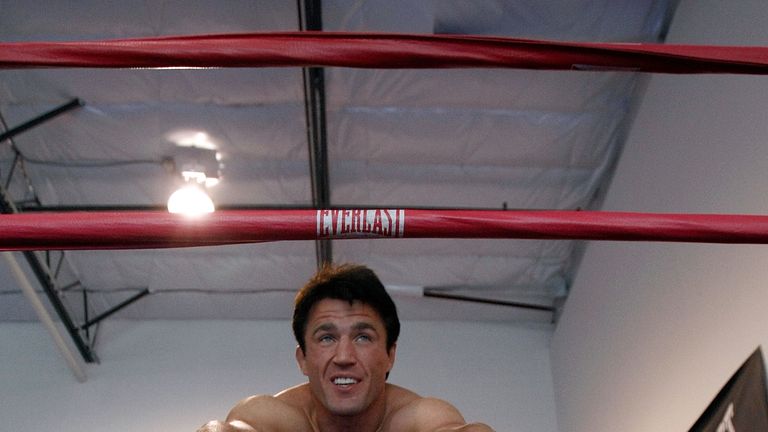 After headlining this Boston event Sonnen wants to kickstart a third run at the middleweight title by fighting longtime adversaries Wanderlei Silva and Vitor Belfort.
"I haven't reached my goals", said Sonnen on a media call referring to his light-heavyweight title loss to Jon Jones and two middleweight title losses to Anderson Silva, when he repeatedly disparaged Brazil and its fighters.
"I want to be a champion, but there are some guys I just want to fight. Shogun isn't one of those guys, but his friends are.
"I'm chasing two guys, Wanderlei Silva and Belfort."
But first Shogun. Sonnen replaced the injured Antonio Rogerio Nogueira, persevered through difficulties obtaining a license and changed training camps to make this fight happen.
The American's comedic mockery of opponents has been absent, perhaps in recognition that his mouth cannot overshadow what would be a third straight loss.
Headline act
It is testament to Sonnen's unrivalled promotional skills that, 18 months since his last victory, he remains a headliner worthy of challenging legends such as Wanderlei and Belfort or champions such as Anderson and Jones.
"I don't always chase titles," he insisted. "I want to fight Jon Jones whether he has the title. I want to fight Silva whether he has the title."
A win over Shogun, who is five years Sonnen's junior at 31-years-old but has absorbed much more damage over a storied career, would arguably be the greatest feather in the American's cap and would springboard him back into the limelight that he once dominated.
Shogun's previous two outings have been lacklustre so it has been two years since we saw the fighter who carved a reputation in Japan's wild Pride organisation and ultimately won a UFC world title yet he claimed on the media call that his "will to win has never changed".
Defeats at the hands of champion Jones and scheduled challenger Alexander Gustaffson mean that Shogun's stock has never been lower.
But his opponent's grasp over publicity means Shogun is afforded a chance to rekindle his glory days on the biggest stage possible - a stint at Freddie Roach's boxing gym suggests that Shogun is aiming for a 19th career knock-out.
The loudmouth Sonnen and silent assassin Shogun have polar opposite ways of building up to a fight but when it comes to getting their championship aspirations back on track there is only one viable method - victory inside the Octagon.