World Equestrian Games: Michael Whitaker rules himself out following row
Last Updated: 31/07/14 7:00pm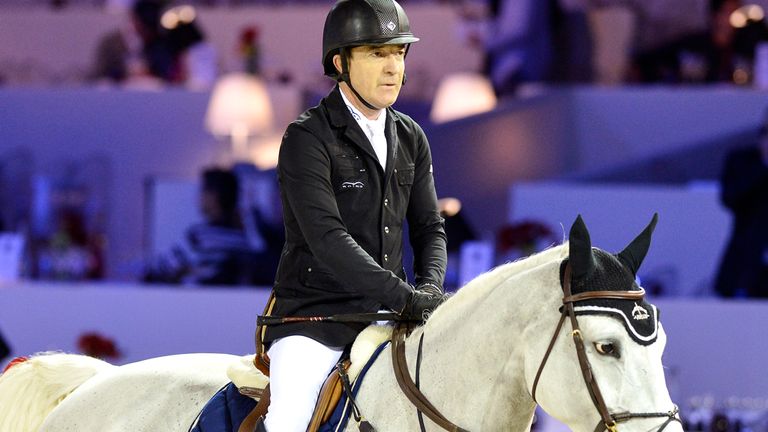 European team gold medallist Michael Whitaker has effectively ruled himself out of World Equestrian Games selection following a disagreement with Great Britain team boss Rob Hoekstra.
Chef d'equipe Hoekstra claims Whitaker has made himself unavailable for key Nations Cup rounds at Hickstead on Friday and in Dublin next week.
Hoekstra is set to name his world championship team after Dublin and the 54-year-old now appears to be on the sidelines.
Hoekstra says Whitaker "didn't want to be available" for Hickstead and Dublin after Britain did not send a team to the cash-lucrative Aachen show in Germany earlier this month.
Whitaker won the Aachen Grand Prix, that carries a £260,000 first prize, in 2012, and Nick Skelton triumphed there last year. But with no team entered it meant only two British riders could compete as individuals - current world numbers one and two, Scott Brash and Ben Maher.
"Michael has sort of not made himself available for the team here (Hickstead) and in Dublin. He didn't want to be available," Hoekstra said.
"We will decide (on the World Equestrian Games team) after the Nations Cup in Dublin. Everyone else is having a very good go at it and supporting the team. He has decided he doesn't want to be part of the team here or in Dublin, and we have to take that into consideration.
Leading rider
"He is the leading Nations Cup rider in the United Kingdom with 186 appearances, so of course it is disappointing.
"He would have liked to have gone to Aachen. I love Aachen, but we didn't have a team available for Aachen with the amount of horses we have lost through injury, and I couldn't risk the few horses I have got left.
"We've lost horses to injury every year for the last three years at Aachen. It was not an easy decision, but in the interests of the team and the World Games I had to make that decision."
Whitaker is unconvinced by Hoekstra's explanation for not entering the Aachen team competition.
"I am very disappointed he didn't send a team to Aachen," he said. "Nick won it (grand prix) last year and I won it the year before, so our horses are proven Aachen horses.
"He said he didn't have a team to send, but he did. I would have gone, John (Whitaker) would have gone, Nick would have gone, Guy Williams and William Whitaker would have gone. There are lots of riders who would have gone. He could have sent five riders.
"I was absolutely 100 per cent in for everything, and I don't want to be awkward or anything, but I don't think that was fair at all. I don't want to be involved with things that are not seen to be done fairly.
"When he had a chance to send five riders to Aachen, but only sent two, that's what I cannot understand. Aachen is like our world championships every year. That is the one show everyone wants to go and win at."