UFC Fight Night: Jimi Manuwa ready to take on Alex Gustafsson in front of home fans
British MMA star Jimi Manuwa talks to Sky Sports about his upcoming showdown with Alex Gustafsson.
By James Dielhenn (@jamesdielhenn)
Last Updated: 06/03/14 3:24pm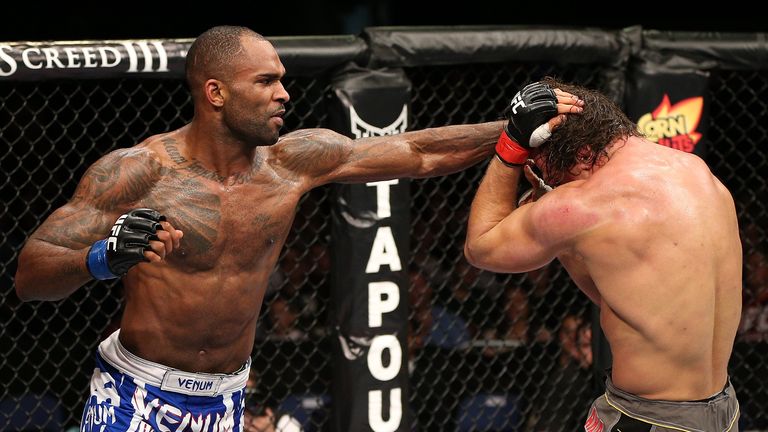 Manuwa has been fast-tracked to a headline fight in his hometown this Saturday at UFC Fight Night in London's O2 Arena against Gustafsson, but claims he could go a step further than the highly-ranked Swede's valiant loss to Jones.
"I'd want to stop Jon Jones," Manuwa told Sky Sports. "I wouldn't have been satisfied with [Gustafsson's] performance.
"It would help anyone to put on that performance against Jon Jones. It would help anyone's belief in themselves and confidence to know that they pushed the pound-for-pound champion to his limits.
"I was one of the few people who thought Alex could beat Jon because Jon uses his reach and I knew that Alex could nullify that. Alex has better hands, better boxing skills, than Jon. So I thought that would be interesting."
The Londoner boldly claims that despite just three UFC victories under his belt he can "100 per cent, definitely" challenge for Jones' light-heavyweight championship by the end of 2014.
But he has the type of shuddering power to justify such beliefs. Fourteen men have opposed him, none have seen the final bell.
Progression
First the 34-year-old must overcome a colossal step-up in competition by overcoming Gustafsson's long and rangy striking game.
Manuwa continued: "I don't think his reach is going to be a problem because I just do what I want to do in the cage. The other person's skills have no effect on me.
"I've fought tall people like Cyrille Diabate and Kyle Kingsbury who are taller than me and have longer reach so that's not a concern."
The undefeated Manuwa's ascendancy to this weekend's headline fight is even more remarkable considering he first walked into a gym five years ago.
"I look back and see that I've come a long way in a short space of time but I expected it of myself. I'm not being big-headed but I knew I could do it and I had belief in myself."
Faith
After a troubled youth saw him incarcerated in 2002 it was an inner fighting spirit - and a belief in something mightier - that turned his life around and provide the basis for his job on Saturday.
"Things have happened and things have fallen into place for me. I put that down to God looking over me and giving me direction.
"The day I started fighting - the day I walked into the gym - and decided I wanted to be a fighter, that's when my life changed."