Ronnie O'Sullivan to face disciplinary action after missing media duties
By Mark Ashenden
Last Updated: 19/04/16 8:32am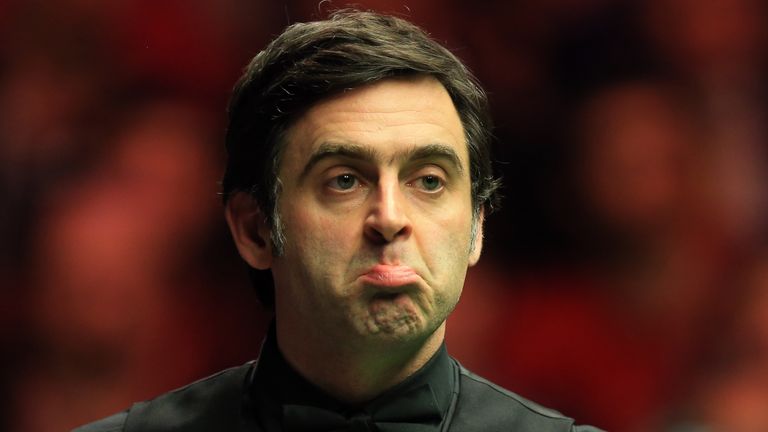 Ronnie O'Sullivan will face disciplinary action for failing to fulfil media duties after his World Championship win over David Gilbert on Monday.
The five-time champion skipped the obligatory post-match press conference after his 10-7 first-round victory, breaching part of the contract all tour players are required to sign.
O'Sullivan could be fined if he is found guilty by a World Professional Billiards and Snooker Association (WPBSA) disciplinary panel.
The 40-year-old is due to next play on Saturday where he will face England's Barry Hawkins or China's Zhang Anda.
World Snooker issued a statement regarding O'Sullivan's non-appearance in front of the media, confirming he will face disciplinary procedures.
It read: "All players have a responsibility to the sport, and in particular to their fans. This includes fulfilling media obligations at events. Any players found to be in breach of these rules will be referred to the disciplinary process."
O'Sullivan's decision, which was relayed to the waiting media by a WPBSA official, came as a surprise given the relatively serene nature of his progress into the last 16.
Although he never quite hit top form against his gutsy opponent, he hit breaks of 101 and 72 as he transformed a 6-3 overnight lead into his three-frame victory.
Gilbert paid tribute to his opponent, saying: "That is probably the best I'll ever play without winning a game of snooker.
"It was an honour to play the legend that is Ronnie O'Sullivan. I know he wasn't quite on top of his game but I feel like I learned a lot and I've got nothing to be disgraced about.
"There's not a lot you can worry about when you play against Ronnie because you just expect to get punished every time something doesn't go your way."
Also in the morning session, John Higgins set a blistering pace against qualifier Ryan Day, hitting three centuries on his way to establishing a 7-2 lead with their match due to resume on Tuesday afternoon.