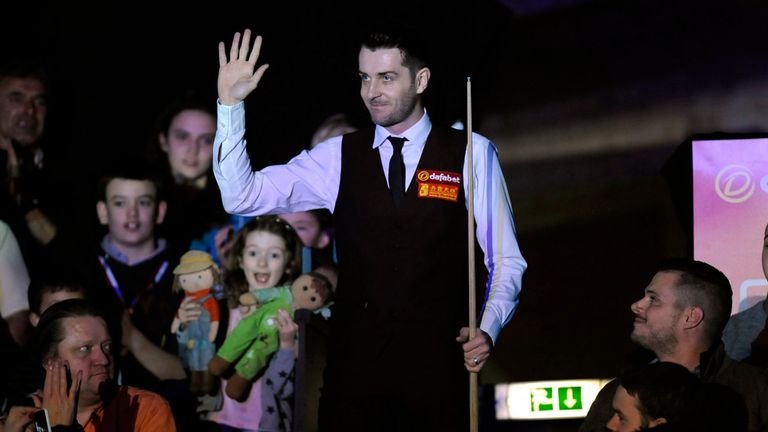 World No 1 Mark Selby eased past Gary Wilson 10-2 to win the China Open in Beijing.
Selby dominated the final to secure the sixth ranking title of his career and with it £85,000 in prize money.
The 31-year-old, who claimed the German Masters title in February, overcame neck pain earlier in the tournament before seeing off Wilson, who currently stands 55 places below him in the rankings.
Selby won the first three frames before Wilson replied with a break of 91 to take the fourth.
Leicester-born Selby then won the next two frames before recording a tournament-high break of 145 on the way to establishing a commanding 9-1 lead.
Wilson took the next with a run of 101 but it was not enough to prevent defeat as Selby claimed the title in the 12th.
The victory will also boost his confidence ahead of the defence of his world crown, with the World Championship running from April 18 to May 4 at the Crucible Theatre in Sheffield.
"I played well for the majority of the match," Selby told worldsnooker.com.
"To be 8-1 up at the end of the first session probably wasn't a fair reflection on how the match had gone, as a few frames could have gone either way but I managed to pinch them. When I was 6-1 up, it could easily have been 4-3.
"I don't think I've ever won a title before without having to face a top-16 player, but that just shows how high the standard is these days because the likes of Gary and Ben Woollaston are good enough to reach finals.
"I'm really happy to win this title for the first time, especially having lost in the final twice. It was a good crowd out there tonight with a good atmosphere.
"I'll get home tomorrow, have a few days off and then get back on the practice table to prepare for the Crucible."
Wilson, who gave up snooker for several years and worked as a taxi driver before returning to the professional tour two years ago, said: "I was looking forward to being in the final, but I let myself down today because I didn't perform the way I can.
"I'm disappointed to have played like that and lost by such a heavy scoreline. I missed a lot of chances. I can still take some positives from the tournament and look forward to the World Championship.
"Even though I beat Ding Junhui in the semi-finals, there was still something in the back of my mind saying I wasn't playing well, and today I went backwards.
"It wasn't pressure or nerves because I felt comfortable. I just cued across a lot of balls and played some very bad shots, which cost me a lot of frames."