Motor Sport
Motor Sport Features
Opinion
Upcoming Fixtures
Time
Fixture
19th September 2014
WSB
Russia - Practice
20th September 2014
WSB
Russia - Qualifying
21st September 2014
BSB
TT Circuit Assen - Race 1
BSB
TT Circuit Assen - Race 2
WSB
Russia - Race 1
WSB
Russia - Race 2
28th September 2014
MotoGP
GRAN PREMIO DE ARAGON
3rd October 2014
WRC
Rallye de France
WSB
France - Practice
4th October 2014
WSB
France - Qualifying
5th October 2014
BSB
Silverstone Arena GP - Race 1
BSB
Silverstone Arena GP - Race 2
WSB
France - Race 1
WSB
France - Race 2
12th October 2014
MotoGP
GRAND PRIX OF JAPAN
17th October 2014
WSB
South Africa - Practice
18th October 2014
WSB
South Africa - Qualifying
19th October 2014
BSB
Brands Hatch GP (Oct) - Race 1
BSB
Brands Hatch GP (Oct) - Race 2
BSB
Brands Hatch GP (Oct) - Race 3
MotoGP
AUSTRALIAN GRAND PRIX
WSB
South Africa - Race 1
WSB
South Africa - Race 2
24th October 2014
WRC
RACC Rally de Espana
26th October 2014
MotoGP
MALAYSIAN MOTORCYCLE GRAND PRIX
9th November 2014
MotoGP
GRAN PREMIO GENERALI DE LA COMUNITAT VALENCIANA
14th November 2014
WRC
Wales Rally GB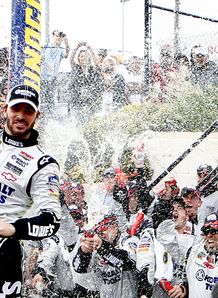 Don't Miss These
Jimmie Johnson is seeking a sixth straight NASCAR title as the Chase gets underway this weekend.
With Kimi Raikkonen set to race NASCAR, we look at other world champions for whom F1 was not enough.
Sky Sports has confirmed a new two-year deal for exclusive live HD coverage of IndyCar.
After fighting to establish himself, racing driver Adam Carroll is hoping to break into IndyCars.
i have been watching your golf coverage for years, i find the american coverage this year is, bad there is no continuaty between any of the group thay jump between one in person in a group and come back later to the other one in that ...
john-g-butcher
Other hot topics:
No Poll has been entered for today