Casey Stoner was happy just to finish a dramatic Valencia MotoGP as he ended his career with a third place finish
Casey Stoner's Honda team hung a "Going Fishing" sign over the pit lane wall as the Australian bowed out in Valencia.
Last Updated: 11/11/12 3:23pm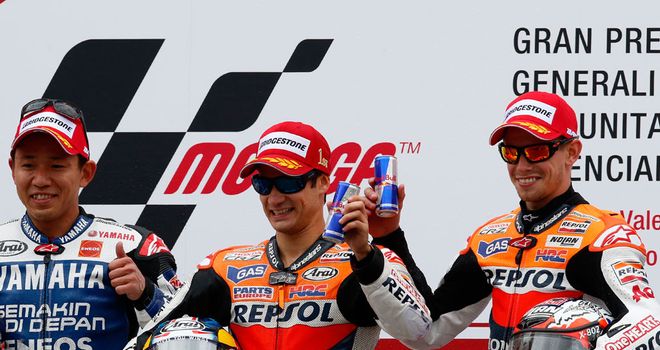 The two-time world champion had to settle for third place on his final grand prix before he retires and admitted it was disappointing not to sign off with a victory.
However, after Dani Pedrosa took the top step after a wet race littered with crashes, including newly crowned champion Jorge Lorenzo, Stoner said he was just happy to have got over the finishing line.
"We went way too late to the slick tires but we brought it home and got on the podium and there are a lot worse ways to end my career," he said.
"It's fantastic to end this way, a big thanks to everyone, to my supporters all these years.
"I didn't want to take any risks out there in my last race, I was scared of crashing in these conditions. There were a lot of crashes today and it was difficult.
"I put on slick tyres but my eyes were dinner plates as I didn't want to take my bike off the dry patch."
His team-mate Pedrosa made a late decision to switch to wet tyres which meant he started a race from the pit lane for the first time, but the plan paid dividends.
"It was quite exciting at the start as some riders had slicks and others had wet tires," he said.
"When we did the warm-up lap I realised I needed the slicks. I have never started from the pit lane before and I was full of doubts.
"I made a mistake when I was right behind Jorge and then he made one himself. It's fantastic to win the last race."