Motor sport review 2012
Alex Williams takes a look back at the highs, lows and all the drama on two and four wheels over the past year
By Alex Williams
Last Updated: 20/12/12 2:51pm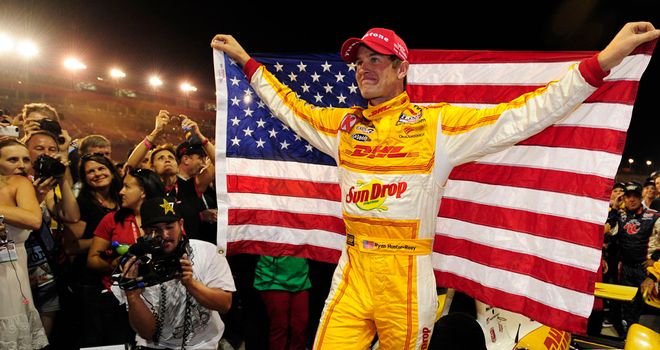 This year proved to be a swansong for some of motor sport's leading lights and, at one point, it seemed that two of its most well-known series also faced a grim future.
However, the World Rally Championship and World Touring Car Championship rebounded from a promoting debacle and potentially crippling manufacturer withdrawal respectively to get back on a relatively sure footing by the end of the year, a development just as important as the destination of any title.
Following the deaths of Marco Simoncelli and Dan Wheldon, the year began with the kind of soul-searching which is thankfully so rare in motor sport these days.
The IndyCar Series unveiled a new chassis - bearing Wheldon's initials - with the partially-enclosed wheels helping prevent a repeat of the accident which claimed the life of the British driver.
Ryan Hunter-Reay took both his and the new design's maiden title as Will Power again missed out at the final race of the season, while Wheldon's good friend Dario Franchitti won the Indianapolis 500 for a third time.
Simoncelli had his local Misano Circuit named in his honour and it was at the Rimini venue where Dani Pedrosa's MotoGP title challenge took a critical blow, ultimately handing the crown to Jorge Lorenzo.
Veteran Italian rider Max Biaggi ended his career in style by winning the World Superbike Championship, while MotoGP star Casey Stoner's decision to call it quits at just 27 ensured it was a notable year of motorcycling retirees.
WRC legend Sebastien Loeb announced he will be scaling down his rally programme next year, meaning his remarkable run of consecutive world titles is almost certain to end at nine.
One driver who definitely will not be defending his title is GP2 champion Davide Valsecchi, although Esteban Gutierrez and Max Chilton, who finished third and fourth respectively, are the only men from the series to secure definite Formula 1 drives for 2013.
Elsewhere, the GP3 title went to Mitch Evans, Brad Keselowski won the Chase for the NASCAR Sprint Cup, Rob Huff and Gordon Shedden won the World and British Touring Car titles respectively, Audi triumphed at the 24 Hours of Le Mans and Shane Byrne took the British Superbike crown.
Click here for a gallery of the best motor sport images of 2012.
Series of the year - GP3 Series
As well as award-winning coverage of the premier motor sport in the world, Sky Sports F1 viewers were also treated to live coverage of the GP2 and GP3 Series in 2012. The latter could hardly have made a better first impression.
Some view the driving on show in junior single-seater formulae as aggressive to the point of embarrassing, but GP3 seemed to find the right mix of genuinely exciting racing and downright craziness. A title fight which went right down to the wire added to the intrigue
Race of the year - GP3 sprint race, Monza
The best series fittingly produce the best season finale. Australia's Mitch Evans went into the race needing only sixth place to be certain of the title, although he was forced to start from 25th after retiring from the feature race.
He soon sliced through the field to 12th, but with rival Daniel Abt in the lead that was still not enough. Evans had set the fastest lap, which is worth two points but only if the driver who set it finished in the top 10.
Evans was soon up to eighth place and on target for the crown, until a dramatic puncture dropped him back down the field. However, Abt surrendered the lead to Tino Ellinas with two laps left, handing the title to Evans.
Driver/rider of the year - Jorge Lorenzo
Given his country's illustrious history on two wheels it may be a surprise to learn that Lorenzo this year became the first Spaniard to win the top-class grand prix title on more than one occasion.
After his 2011 championship charge was curtailed by injury, the Yamaha rider started the season in dominant style to contain the Repsol Honda duo of Casey Stoner and Dani Pedrosa. Lorenzo was an ever-present in the top two when completing the race distance, a level of consistency which proved vital.
Controversy of the year - Lotus IndyCar engine debacle
There was much curiosity surrounding Jean Alesi's debut at the Indianapolis 500, but it came to an embarrassing end as the former Formula 1 driver was forced to pull out for going too slowly because of his underpowered Lotus engine.
A delayed entry into the series and woeful engine performance meant the company lost several potential customers and eventually it was just Simona de Silvestro plodding around in a Lotus-powered car.The manufacturer is not expected to return nest year.
Given their more than competent efforts in F1, many felt Lotus were showing a lack of respect to IndyCar.
Low Point - Deaths at Macau
Despite continuing safety improvements, we were given a grim reminder of the dangers of the sport as the multi-race Macau Grand Prix was rocked by two deaths in two days.
Just a day after Portuguese motorcyclist Luis Carreira was fatally injured, touring car driver Phillip Yau was also killed after a high-speed accident at the street circuit. It was a somber way to end the season.
Quotes of the year
"This sport has changed a lot and it has changed to the point where I am not enjoying it. I don't have the passion for it and so at this time it's better if I retire," Casey Stoner on his reasons for quitting MotoGP.
"Fire! My view," Brad Keselowski tweets a picture from his car during a stoppage in the Daytona 500.
"We need to say that, in GP2, there are the best drivers in the world outside of Formula 1, and the level is so high that if everything is not perfect, you cannot win," GP2 champion Davide Valsecchi.
"I don't even want to go to Daytona and Talladega next year, but I ain't got much choice," Dale Earnhardt Jr laments what NASCAR restrictor plate racing has become.
"Everybody up there was a friend of Dan's, and that about sums it up. Everybody loved him," Dario Franchitti remembers Dan Wheldon as he reflects on the podium finishers at the Indy 500.
"The sport was made on fights. We should have more fights. I like fights," NASCAR's Kevin Harvick gives his view on a scuffle between Jeff Gordon and Clint Bowyer.
"I'm a bit disappointed with the fire marshals' reactions, they seemed too fat to climb over the wall and Matt had to put it out himself with his broken hand," Matt Neal's father and boss Steve Neal gives his verdict after a fiery exit at the BTCC round at Silverstone.
"I figured I was going to get some kind of a penalty for it, so that's nice to know that's something you can get away with," Tony Stewart expresses his relief after throwing his helmet at Matt Kenseth's car.
Sporting great - Sebastien Loeb
It must have come as a great relief for the Frenchman's World Rally Championship rivals when he announced his decision to scale down his programme for the 2013 season.
For as much as the sport tries to feed off Loeb's profile, the rest of the field have simply not stood a chance against him over the last nine years.
Loeb's utter dominance of rallying has been incredible: since he has been a full-time participant he has come second in the championship once and then first in nine straight season. During that 10-year period he has won 75 of the 140 rallies he has participated in.
From a statistical point of view, no rally driver in history comes close to Loeb, who has more than double the next best in terms of number of titles and events won.
Some believe the lack of competition in modern rallying, where there are only two serious factory teams, means he cannot be compared with drivers from the halcyon Group B days of the 1980s, when rallying threatened the popularity of Formula 1.
Even drivers such as Tommi Makinen, Carlos Sainz and Colin McRae enjoyed a higher profile but it is not Loeb's fault that his category of motor sport is not as prevalent in the public eye as it once was.
The reality is Loeb has been head and shoulders above the competition over the last decade and could have done nothing more to prove his credentials during that time. Quite simply, he should be regarded as one of motor sport's true greats.