MotoGP: Dani Pedrosa expected to be fit for French Grand Prix at Le Mans
Dani Pedrosa expected to be for French Grand Prix at Le Mans after undergoing surgery for compartmental syndrome
Last Updated: 07/05/14 6:39am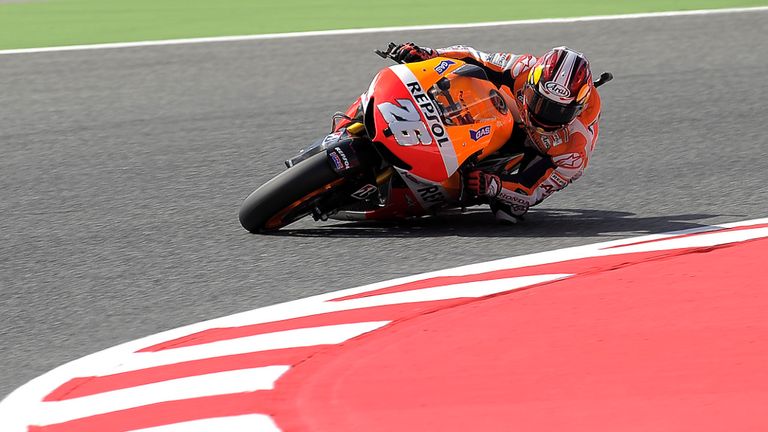 The Repsol Honda MotoGP rider had been suffering from compartmental syndrome, more commonly known as 'arm pump,' and underwent a procedure in Barcelona on Tuesday.
Pedrosa finished third in Sunday's Spanish Grand Prix in Catalunya less than a tenth of a second behind Yamaha rider Valentino Rossi.
The 28-year-old is second in the championship, 28 points behind team mate and reigning champion Marc Marquez who has won the first four races of the season from pole position.
A Repsol Honda statement read: "After an intense weekend of action at the Spanish Grand Prix, where Dani missed out on second place by just 0.098s, followed by a positive day of testing on Monday, Dani received surgery this morning to treat compartmental syndrome, in order to fix an ailment common amongst World Championship riders.
"Due to discomfort in his right forearm, Dani was initially examined by Dr. Mir. After the consultation it was decided to carry out the operation immediately, in order to increase Dani's chances to compete in the upcoming French Grand Prix. Dr. Mir used two incisions to enter the forearm, freeing the flexor and prone-extensor muscles in the appendage via minimally invasive microsurgery.
"Dani will remain in hospital for 24 hours, and will need to keep his arm immobile for some days. Following this, he will begin functional recovery. If his healing progress goes according to plan, Dani should be able to take part in the next race on the MotoGP calendar, held in ten days at Le Mans, France."