Checa: Top speed is key
Carlos Checa hopes a lack of top-end speed will not prevent him making the most of his Ducati's pace in Moscow.
Last Updated: 24/08/12 4:48pm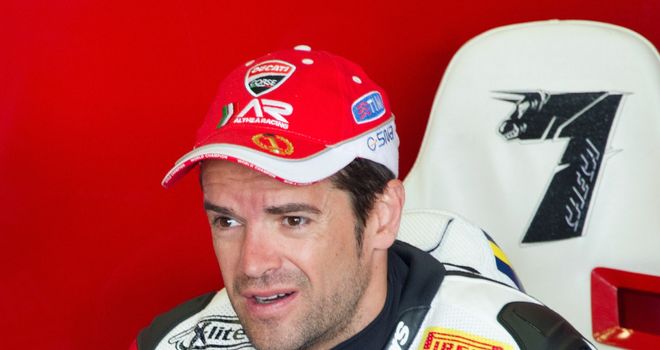 Carlos Checa hopes a lack of top-end speed will not prevent him making the most of his Althea Ducati's pace in Moscow this weekend.
The Superbike World Championship pays a maiden visit to the Russian capital, with the new Moscow Raceway having only staged its first international event last month.
It now plays host to the world's premier production-based motorcycle championship and, with the track being an unknown to the teams and riders, testing was conducted on Wednesday.
Checa set the fastest time on the tight and twisting circuit, which was still very dusty in places.
The 2011 world champion now requires some strong results to haul him back into contention in the defence of his crown.
The Spaniard currently lies fourth in the standings, 53.5 points adrift of Aprilia's Max Biaggi with the BMW of Marco Melandri and Kawasaki of Tom Sykes lying between them and just four rounds remaining.
Aggressive
The 39-year-old took a solid fifth and sixth in the chaotic conditions at Silverstone last time out, but needs to start picking up regular podium finishes.
Having started the meeting in a positive fashion, Checa's main concern is that he may find himself overhauled down the circuit's long back straight.
"It is a nice adventure to be here in Russia and it's a really nice track, he said. "In some places you can only use about 15% of throttle and just keep rolling the bike.
"We worked quite well and this is a track where we have been working well in both the morning and the afternoon.
"We understand the line, the gearbox and the tyres. At the end we felt the tyres were working a lot better in the afternoon because probably the asphalt is less aggressive now.
"But we are losing a lot on the straight, which is uphill, so it is not easy to manage that."
British racer Sykes, just two points ahead of Checa, was third fastest during testing, and also believes he has set himself up for a strong weekend.
"We have had a productive test," he said. "We have some things to do for the weekend but really not many, because the test turned out well.
"We put a lot of laps in and hopefully that should make things more relaxed for race weekend itself."