Injury KOs Stoner title hopes
Casey Stoner's hopes of ending his career with a third MotoGP world title are "finished" due to an ankle injury.
Last Updated: 23/08/12 5:52pm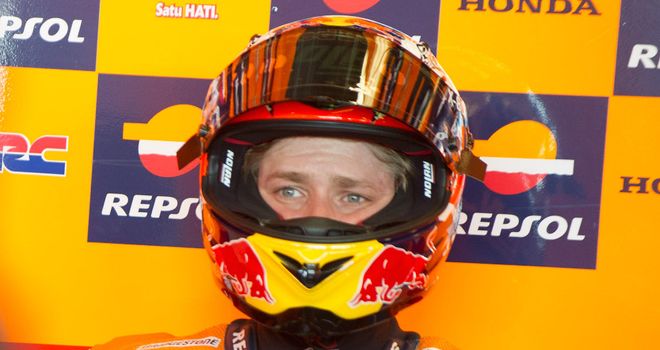 Casey Stoner's hopes of ending his career with a third MotoGP world title are "finished" after his Repsol Honda team announced he will miss this weekend's Czech Grand Prix to undergo surgery on his injured right ankle.
The Australian, 26, seriously injured ligaments and suffered fractures to his ankle after his violent accident in qualifying for last Sunday's Indianapolis Grand Prix.
The Honda rider rode through the pain to secure a fourth place race finish, eventually losing the battle for the final podium spot to Andrea Dovizioso as he tired in the latter stages.
Stoner, who will retire at the end of the season, had to be helped from his bike at the conclusion of the race.
He had planned to ride in Friday practice at Brno before making a decision on his involvement, but doctors have advised him to undergo surgery, and he is to return to his homeland on Thursday.
Stoner sits 39 points behind championship leader Jorge Lorenzo, and with a long road to recovery lying ahead he admits he has no chance of bowing out with a title success.
He told a press conference: "It's disappointing news but it's finished our championship. I've no idea when I'll be back as until we've had the surgery we won't know."
He added: "The plan is to get back to Australia as we have to wait for the inflammation to go down before having surgery.
Medical advice
"We already have everything lined up to see what we can do and then try to get back.
"Normally my doctor doesn't have a problem with me riding with injury but as soon as he read the report he advised me against riding in Indianapolis.
"All the different reports have been the same, that I need to get off this foot as soon as I can.
"My plan is to come back hopefully a race or two before (the Australian Grand Prix at) Phillip Island but I don't know.
"To have these kind of disappointments is frustrating, especially in my last year. But that's racing.
"I'm not in this championship to finish on a fairytale. I'm not always going to keep waiting for a fairytale ending."
While Stoner sidelined his team-mate Dani Pedrosa will be looking to build on the momentum of his win in America last weekend, which moved him within 18 points of Yamaha's Lorenzo at the top of the standings.
He said: "Honda has been strong in the past few years here, so we hope to have a good performance in this race also. I'm looking forward to the race in Brno and to fight again for the victory."