Crutclow extends Yamaha deal
Tech 3 Yamaha will field an all-British line-up for its 2013 MotoGP campaign after Cal Crutchlow agreed to stay.
Last Updated: 25/08/12 11:58am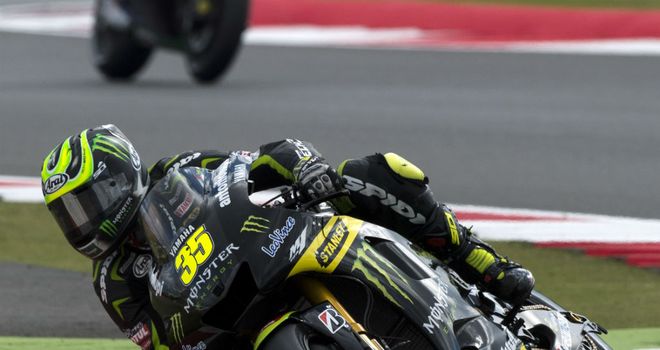 Tech 3 Yamaha will send an all-British rider line-up into battle for its 2013 MotoGP campaign after Cal Crutchlow agreed to stay with the team.
Crutchlow will be joined by 21-year-old Oxford racer Bradley Smith, 21, whose step up from the Moto2 class on a two-year deal was confirmed at the end of 2011.
Crutchlow, who currently lies fifth in this year's championship, had been heavily fancied to make the switch to Ducati after an impressive second season in MotoGP.
But those rumours were scotched when current team-mate, Andrea Dovizioso, was confirmed as the Italian manufacturer's replacement for the exiting Valentino Rossi earlier this week.
Rossi's return to Yamaha also scuppered Crutchlow's chances of making the step up to their factory squad.
And the 26-year-old has now elected to agree a one-year extension to his contract with the Tech 3 satellite team.
"I am delighted to commit my future to the Monster Yamaha Tech 3 Team for at least one more year," he said.
Huge progress
"Together we have made huge progress this season and achieved some strong results and I am confident we can be even more competitive in 2013.
"Yamaha have been very loyal to me over a long period of time and they both made it clear how much they wanted to keep me for next year.
"That was incredibly flattering and I really appreciate their support. Next year will be my fifth with Yamaha and I am excited to continue my MotoGP career with them.
"My relationship with Tech 3 also played a big part in my decision. (Team boss) Herve Poncharal and all my crew have given me unbelievable backing since I joined in 2011.
"Yamaha put together a great package for 2012 and next year it will be even stronger.
"Hopefully I can reward their loyalty by challenging for the podium throughout 2013, which I know we are capable of."