NASCAR: Matt Kenseth wins at Talladega after Tony Stewart triggers pile-up
Matt Kenseth claimed victory at Talladega Superspeedway after Tony Stewart crashed out in spectacular fashion.
Last Updated: 08/10/12 5:11pm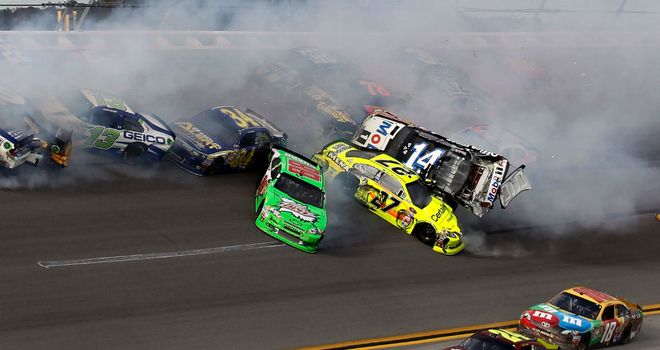 Defending NASCAR Sprint Cup champion Stewart was leading on the final lap of the green-white-chequered finished but turned down on Michael Waltrip and was sent spinning.
Stewart then slid up the banked, high-speed track and was flipped onto his roof by the oncoming trafiic, with the 25-car wreck causing the race to finish under caution.
Kenseth was the leader when the yellow flag came out, with Jeff Gordon being awarded second place and Kyle Busch third.
Brad Keselowski finished seventh to increase his lead in the Chase for the Sprint Cup standings to 14 points with Stewart, who was unhurt, retaining second place after being credited with 17th place in the race.
"I just screwed up. I turned down and cut across Michael and crashed the whole field. It was my fault, blocking and trying to stay where I was at," Stewart said of his accident.
"I was trying to win the race and I was trying to stay ahead of Matt there and Michael got a great run on the bottom and had a big head of steam, and when I turned down, I turned across the front of his car.
"Just a mistake on my part but cost a lot of people a bad day."