Clint Bowyer won NASCAR's Bank of America 500 for his first Chase for the Sprint Cup victory
Clint Bowyer claimed his first victory in NASCAR's Chase for the Sprint Cup by winning the Bank of America 500.
Last Updated: 14/10/12 12:54pm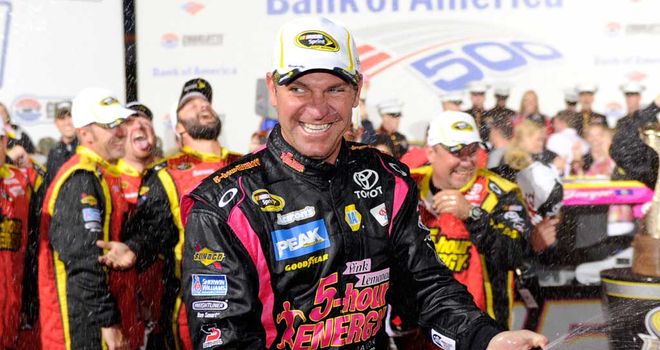 The Toyota driver held off the challenge of Denny Hamlin and Jimmie Johnson to secure his career-best third victory of the season in his maiden campaign for the Michael Waltrip Racing team.
Points leader Brad Keselowski led for 139 of the 334 laps but ran out of gas with 58 laps remaining and had to settle for 11th place.
Keselowski now holds only a seven-point lead over five-time champion Johnson in the standings at the halfway point of the 10-race Chase.
Hamlin is third overall, 15 points back, and Bowyer is back in the hunt in fourth place after the win, 28 points down.
Keselowski said: "It's blackjack, you're not going to win every hand. When you get a bad deal you have to try not to have too many chips on the table.
"It was the worst-case scenario. We minimised the damage as best we could."
Johnson said: "I don't know how much it hurt him at the end of the day.
"I've been doing this long enough, too, when you see something happen, in your mind you're like there's an opportunity and before you know it, it happens to you."