Casey Stoner is nowhere near 100% ahead of bid for sixth Australian Grand Prix
Casey Stoner admits his physical condition is going to make it tough for him to win a sixth straight Australian GP.
Last Updated: 24/10/12 9:30am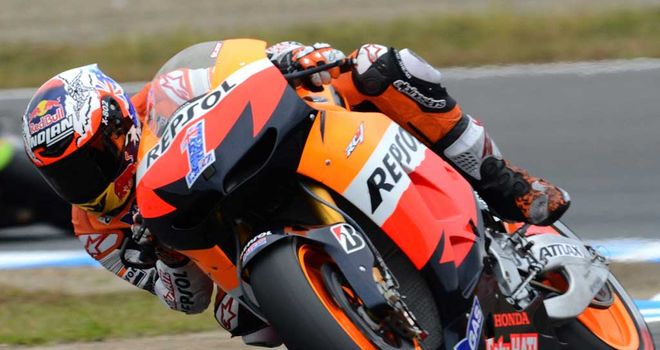 Stoner will have turn three at Philip Island renamed in his honour later this week and look to add to his 37 MotoGP wins before retiring after the race in Valencia next month.
Fellow Australian world champions Mick Doohan and Wayne Gardner are also honoured at the track but Stoner is hopeful rather than confident about his chances of a dream victory to bring down his career.
He needed surgery after breaking his right ankle in a crash during qualifying at Indianapolis in August, and although he finished third in Malaysia on Sunday, Stoner admits his confidence and shape is not yet 100%.
"There is a bloody good reason why I can't ride like I really want to," the Honda rider said.
"I know I am not at 100 percent and, to win at this level, everything has to be very close to 100 percent to feel fantastic. So for Phillip Island, I really don't know what to expect.
"The thing is I'm not fully healed. Most people would have waited a lot longer before coming back and I should have but I can't. I haven't got much time left before the end of my season.
"If I was in much better shape and I crashed and hit my foot, it would not be a problem but, if I do that now, then I am going to put myself back another four or five months.
"If I dislocate it again, I'm in strife. We are talking broken ligaments - not just torn. Last Sunday in Sepang, I went thinking I'd just go around carefully, finish the race and not take any risks."