Casey Stoner: A great way to say goodbye
Casey Stoner insisted his fairytale victory at Phillip Island will definitely be his last race in MotoGP.
Last Updated: 28/10/12 10:06pm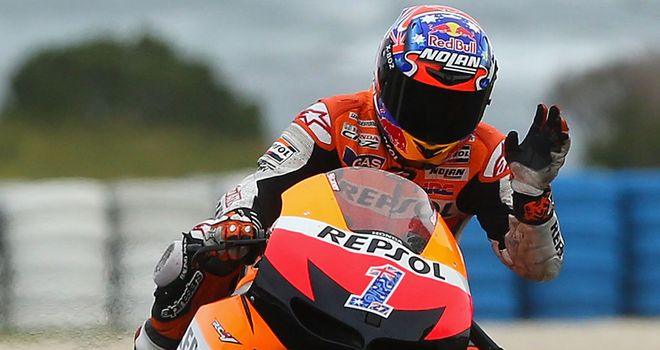 The Aussie, who will retire from MotoGp at the age of 27 at the end of the season, won his home race for the sixth consecutive year but he rejected speculation that he may return to the sport after taking a break.
"I've got no thoughts whatsoever at this time of ever even thinking of coming back," he said.
"I'm very established where I'm going (into retirement). I'm not changing my mind every couple of minutes.
"I'm not really a very emotional person, but I think it says enough seeing the people out on the pit straight and the reception we got for winning this race. It was quite something to take in.
"It was very important for me to win a race before I retire and to do it at my home grand prix here was just a fairytale."
Fantastic
"It's been a fantastic build-up," he added. "It was very important for me to win a race before I retire and to do it at my home Grand Prix here was just a fairy tale.
"This whole weekend has gone almost ideally and, with all the fans, everything has just been amazing. It gives me a great feeling and a great pride to be out there as an Aussie making everybody proud."
Jorge Lorenzo wrapped up the world title by finishing second behind Stoner, but he admitted it was Stoner's day.
"I think I'm talented but probably I've never seen a rider, as I said before, with more pure talent than him," Lorenzo said.
"Previously with a Ducati, he was the only rider who could push you out two seconds in the first two laps. He was unbelievable how he made it.
"Maybe, he'll come back. I think every rider will gain much more opportunities to win races and championships. With him on the track it would be much tougher."