Stephane Peterhansel and Cyril Despres retain their leads after stage 12 of the Dakar Rally
Defending champions Stephane Peterhansel and Cyril Despres retained their leads after Stage 12 of the Dakar Rally.
Last Updated: 17/01/13 10:07pm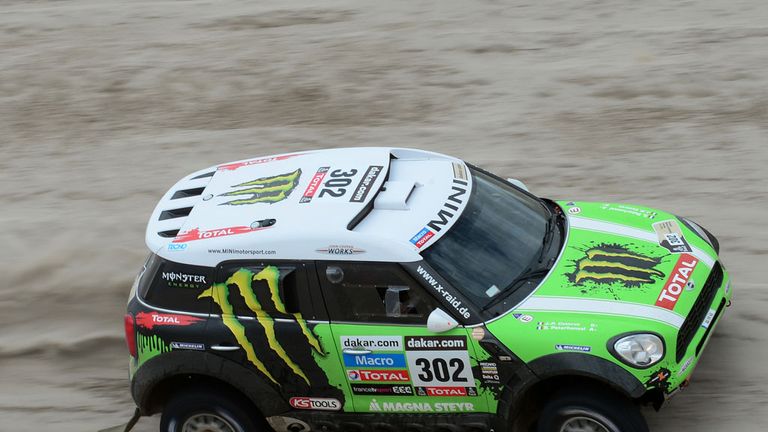 Frenchman Peterhansel's overall time is now 32 hours, 50 minutes and two seconds, to leave him 50 minutes and 21 seconds ahead of South Africa's Giniel de Villiers and 1:31:06 in front of Joan Roma.
Spanish driver Roma won the stage, a 319km timed run between Fiambala in Argentina and Copiapo in Chile, with American Robby Gordon 4:18 behind in second.
Roma secured his third stage win of this year's rally despite suffering a late puncture to his Mini.
"To start there were some dunes, some very fast parts, but in the last dunes we got stuck and we lost around 8 or 10 minutes, I don't know exactly," said Peterhansel.
"We got a bit stressed inside the car, but then it was OK. Yes, for sure we can smell victory, but I can remember two times when I have lost the Dakar just on the last day, so we know that anything can happen.
"I could make a mistake, we could have some technical problems. So, there are still two days left."
In the bikes category, Peterhansel's compatriot Despres is now 5:39 ahead of KTM teammate Ruben Faria in the overall standings with a time of 37:46.59, while Francisco Lopez of Portugal trails by 13:40.
Frans Verhoeven of the Netherlands claimed the stage victory, 1:38 ahead of Faria.
"I didn't want to open the track today so I let them go. It was also important for me today to try and help Ruben," said Despres, who was 14th on the stage, more than nine minutes behind Verhoeven.
"He's been helping me for the Dakar 2010, 2011, 2012 and also 2013, so today I decided to help him to try and stay in second place overall. I think he did well and I'm happy for us."
Friday's 13th stage, the penultimate before the rally concludes in Santiago on Saturday, will be the longest of the race, with 735km covered in total, 441km of which forms the timed run.