Rallying: Sebastien Ogier closes on Rally Mexico victory after Mads Ostberg retires
Sebastien Ogier is on course to win the Rally Mexico after his nearest challenger Mads Ostberg was forced to retire.
Last Updated: 10/03/13 4:01pm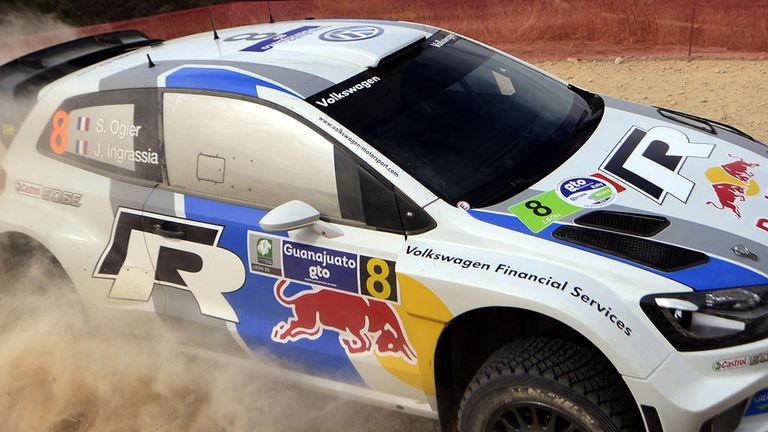 Ogier opened up a lead of nearly three minutes over second placed Mikko Hirvonen in his Citroen, while Ford's Thierry Neuville is in third.
Ostberg reported a clutch problem after stage 14 before an electrical issue with his alternator forced him out of the race altogether.
To add to his woes, Ostberg also injured his foot when he kicked his car in frustration.
Neuville climb into third in the wake of Ostberg's withdrawal despite losing almost a minute on stage 15 when he damaged his steering after hitting a rock on the day's opening stage.
But the Belgian came back into contention when Hirvonen suffered a puncture on stage 18 at Otates.
Frustrating
Spain's Dani Sordo was fourth despite struggling with his Citroen in the morning, with Qatari driver Nasser Al-Attiyah completing the top five.
"It's the biggest disappointment I've ever had in rallying," said Ostberg. "It's very frustrating after fighting for a good result.
"I can't believe it's the third rally in a row where we've had technical issues and I'm not happy with that. I hope this will change now."
Ogier also felt Ostberg had been hard done to but admitted he was pleased with how he had progressed.
"It was a great morning for us but I feel a bit disappointed for Mads, he deserved better than that," said the Frenchman.
"This morning he did a really good job and it's a shame for him.
"Now we just want to get to the end, avoid all rocks and try to save the car as much as we can. We'll be very safe."
The Frenchman had to stop to open a gate on stage 18 but he was able to laugh off the incident, despite it costing him 30 seconds.
"Maybe somebody didn't want me to win," he added. "We had to stop the car, get out and open it. Not perfect. Next time perhaps they should remove the gates."