NASCAR: Martin Truex Jr ends five-year wait for second Sprint Cup victory
Martin Truex Jr broke a 218-race losing streak with victory in NASCAR's Toyota/Save Mart 350 at Sonoma Raceway.
Last Updated: 24/06/13 7:48am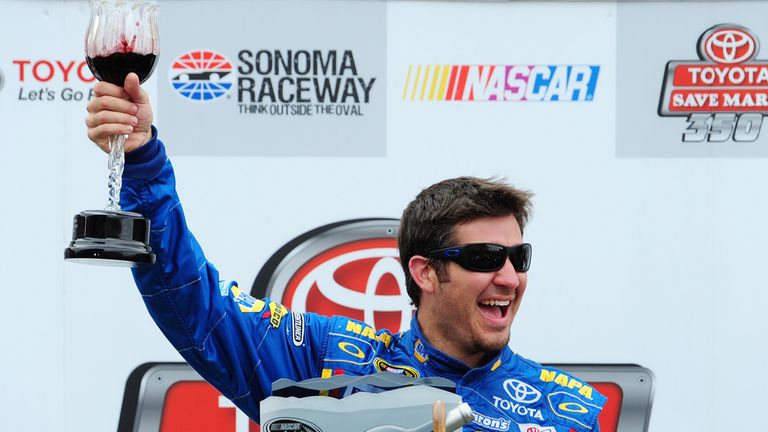 Truex Jr, whose only Sprint Cup success came at Dover in 2007, cruised to victory in the season's first race to be run at a road course.
The Michael Waltrip Racing driver worked his way to the front of the pack early on and used pit strategy to stay there, pulling away from the field after the final set of stops.
He had already built a lead of more than six seconds over Juan Pablo Montoya when the Colombian driver ran out of fuel going into the last lap - that dropped him all the way to 34th place.
His misfortune let in Jeff Gordon to finish second ahead of Carl Edwards and Kurt Busch, whose chances were not helped by a pair of speeding penalties.
Mess
Truex Jr made the most of his celebrations after the race and admitted he had started to make a bit of a fool of himself, such was his over-exuberance.
He said: "I was a freaking mess. It was terrible.
"I had to stop and start doing donuts because I couldn't think about what I was doing. I tried to key the radio once and I couldn't even talk. So I thought, 'OK, I'm going to do some donuts and wave to the fans.'
"But after I stopped the first time and did that, I calmed down a little bit and I just wanted to make sure I took my time coming back, because I remember at Dover it all happens way too fast. You never know when you're going to get that opportunity again.
"I told them on the radio, if they're waiting on me, too bad. I'm taking my time.
"You can't explain the feeling. When it's been that long and you worked so hard and you've been so close ... when you think at times, 'Man, is this ever going to happen again?' You can't explain the feeling. It's pretty surreal."