MotoGP: Former world champion Casey Stoner to test for Honda
Casey Stoner has fuelled speculation he could make a shock return to MotoGP by agreeing to test ride for Honda.
Last Updated: 23/07/13 12:06pm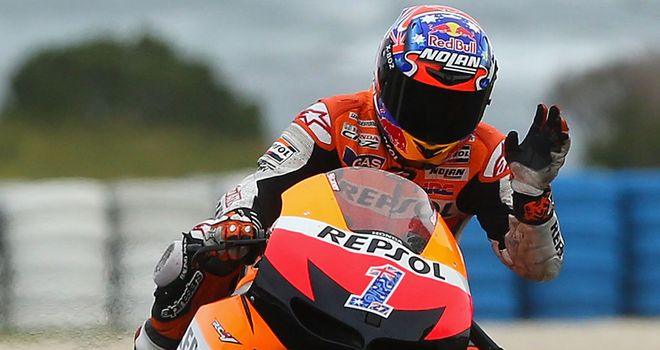 The Australian former world champion stunned MotoGP by retiring last year at the age of 27, citing disillusionment with the sport.
He switched to V8 supercars but Stoner admits he has missed driving on two wheels and has agreed to test for Honda at Motegi.
Despite speculation, Honda insist the tests are not a forerunner to Stoner returning to MotoGP full time, stating it is "now out of the question".
Stoner said: "It's been almost seven months now since Valencia (the final race last season) and I'm still happy and comfortable with the decision I made to stop racing.
"Sometimes I miss riding my RCV, so I am happy HRC (Honda Racing Corporation) asked me to do some tests in Motegi this year.
"This will allow me to enjoy what I miss - riding a MotoGP bike.
"I'm looking forward to getting on it and seeing how it has changed from last year, and I'd like to thank Honda for this opportunity."
Enjoyment
"It will allow me to enjoy what I miss which is riding a MotoGP bike."
Honda Racing's executive vice president Shuhei Nakamoto has no doubts Stoner's feedback will prove invaluable to the team.
"We are very pleased to have Casey back on a Honda. He knows this machine very well and I'm sure he can help our engineers and technicians with the development of the RC213V," said Nakamoto.
"We will also ask him to test the new production racer and give us his initial feedback to assist us in producing the best machine possible."