Jason Plato won two races but Andrew Jordan clinched a first BTCC crown at Brands
Andrew Jordan claimed his maiden British Touring Car Championship title despite enduring his toughest race day of 2013.
Last Updated: 13/10/13 7:08pm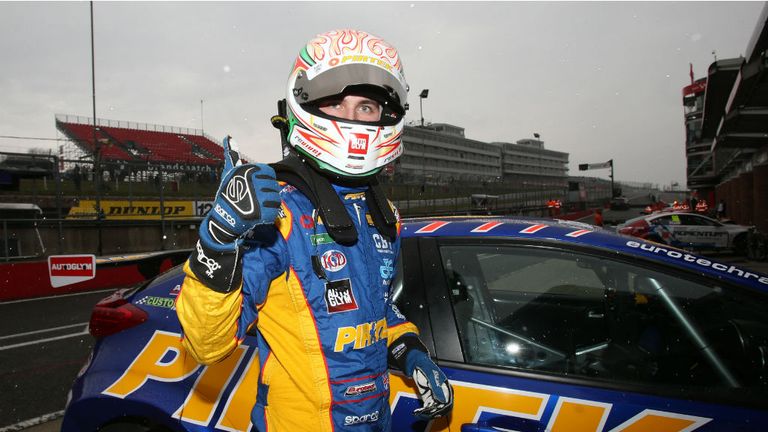 The Pirtek Racing driver came into the season finale with a 34-point lead at the head of the standings but four other drivers all had a chance of denying him the big prize.
Fifth place in the opening race was a steady if unspectacular start, but disaster struck in the second when Jordan suffered his first retirement of the campaign after a tangle with the Honda of fellow title rival Matt Neal.
With Jason Plato winning the first two races the championship battle was whittled down to three men heading into the finale - Jordan, Plato and reigning champion Gordon Shedden, with Neal and Colin Turkington falling by the wayside.
Yet Jordan held his nerve, with ninth place enough to seal the title by seven points from race-three winner Shedden.
"It feels surreal. I can't put it into words. It's the best feeling ever," said Jordan, whose results on Sunday marked the first time all year he had failed to score at least one podium on race day.
"After race two it wasn't looking too good but you never give up. I thought it was going to be really tough."
Sufficient
Jordan went into the final race with a 15-point lead over Plato after the MG KX Momentum driver's wins in races one and two, while Shedden was five points further back.
Starting from the back of the grid, Jordan had plenty of work to do as he battled to climb to the eighth position that would guarantee the title.
In the end ninth place proved more than sufficient, with Plato never in any danger of making it a hat-trick of wins as he came home in 10th place and Shedden's victory only enough to move him up to second place in the final standings.
"I was more relaxed before that race than I have been all weekend," Jordan said. "We thought Jason could win three races in a day, so once I got through to the top 10 and we saw where Jason was it was just about holding station."
While Jordan may have failed to mount the podium on the day he clinched the title, his six wins and six further podium finishes this season underlined his consistency and reliability, and he had special praise for the Pirtek team, which is run by his father Mike.
"I'm the last piece in the jigsaw," he said. "They're the best team in the pit lane by far."