MotoGP: Yamaha rider Jorge Lorenzo bids to shed weight ahead of new season
Jorge Lorenzo has admitted he needs to lose weight as he prepares his bid to reclaim his MotoGP crown this year.
Last Updated: 17/01/14 10:11pm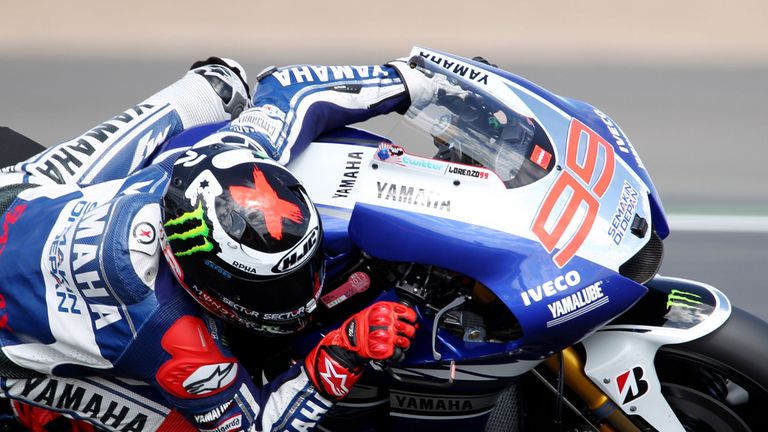 The Spaniard narrowly missed out on a third world title in four years last season as he finished just four points adrift of rookie compatriot Marc Marquez.
Lorenzo's 2013 campaign was interrupted by two serious collarbone injuries, and he has recently undergone surgery to remove metal plates from his shoulder.
Speaking at his factory Yamaha team's 2014 launch in Jakarta, the 26-year-old said: "This winter I had an operation to take out the metal plates in my shoulder so I'm a bit lighter but I'm also a bit fatter after Christmas.
"I am training hard to lose some kilos and I will try to start the season well like last year and be straight onto the podium. This will be important to get points and gain confidence to keep going through the season."
Lorenzo also dismissed speculation that this would be his last season with Yamaha, the team he has represented since making his MotoGP debut in 2008.
Ducati are believed to be interested in signing Lorenzo for the 2015 season, but he insists he wants to remain with Yamaha for his entire career.
"When you are fast and winning races all the big factories want you, this is normal." he said.
"I have to clarify that there is no truth in the rumours that there is a contract with another manufacturer and I would like to start negotiating as soon as possible for my future with Yamaha.
"My dream is to retire after my career as a Yamaha rider. If our bike is even better this year then it will be easier."
His team-mate Valentino Rossi is predicting another successful season for Yamaha as he bids for a seventh world title, and his first since 2009.
"The expectations for the coming season are very high," said Rossi.
"My target is to try and do better than last year, be more competitive and fight for the podium every weekend. I am sure our bike will be very competitive again."
The 19-race MotoGP season starts on March 23 in Qatar, with the schedule including two new races in South America for the first time since 2004.
Round three of the championship will be staged in April, while Brazil will host round 15 in September.