MotoGP: Marc Marquez wins Grand Prix of the Americas on Sunday
MotoGP world champion Marc Marquez dominated from the off as he won the Grand Prix of the Americas on Sunday.
Last Updated: 13/04/14 10:11pm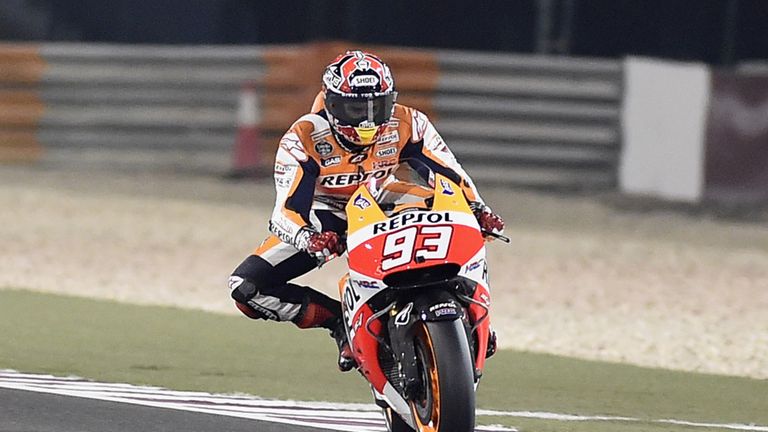 The Spanish ace, who won the season-opener in Qatar last month, was never threatened from pole position at the Circuit of the Americas.
He finished 4.174sec ahead of Honda team-mate Dani Pedrosa, with Ducati's Andrea Dovizioso taking third place, a massive 20 seconds off the lead.
Marquez, who repeated his maiden Texas MotoGP success from 2013 when he also won from pole position, was delighted to notch another victory.
"I am so happy for this victory. The start was good and the 25 points important for the team even if the race was a little boring," said Marquez, who fractured his right leg in an offseason training accident but again showed no signs of trouble with it.
The Honda rider now sits on 50 points over all, with Pedrosa 14 points back in second and Italy's Valentino Rossi, who was runner-up in Qatar behind Marquez, a further eight points adrift in third.
There was a dramatic start to the race in Texas as Jorge Lorenzo, the 2010 and 2012 world champion, had a jump start from fifth on the grid. He had to endure a compulsory ride-through the pit lane on his factory Yamaha at the end of the first lap.
At the front, Marquez charged away from the field and was never threatened, with his lead over Pedrosa growing to five seconds with four laps to go while Dovizioso, who had started in 10th, was up to third.
Rossi was fourth at the halfway mark but the veteran Italian slipped back down the field as he struggled with grip on his front tyre, eventually finishing eighth, 45sec off the pace, while Lorenzo fought his way back to 10th place.