Audi's domination of Le Mans 24 Hours continues with their fifth straight win
Last Updated: 17/06/14 4:28pm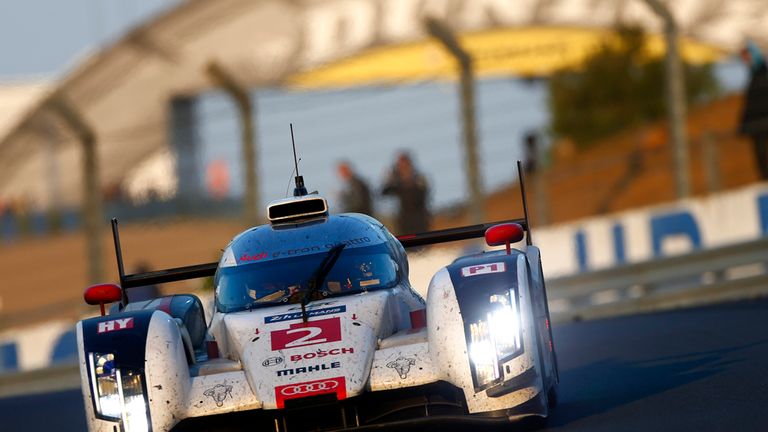 Audi's domination of Le Mans 24 Hours endurance race continued with their fifth successive victory and a one-two finish on Sunday.
The prototype hybrid R18 e-tron quattro car with Frenchman Benoît Treluyer, Swiss driver Marcel Fässler and Andre Lotterer of Germany at the wheel, came home ahead of the second Audi, driven by a team led by Danish driver Tom Kristensen.
Frenchman Nicolas Lapierre headed the team which came third in a Toyota, which also included Britain's Anthony Davidson and Swiss driver Sebastien Buemi.
It was the German team's 13th win at Le Mans, leaving them just three behind Porsche.
Treluyer, Fassler and Lotterer won the race for the third time, following successes in 2011 and 2012, thus denying Kristensen, who already holds the record of nine race wins, the chance to reach double figures.
Kristensen's luck ran out again after he had taken the lead early on Sunday morning when Stephane Sarrazin's Toyota was forced to retire after holding a commanding lead for more than 10 hours, with the two Audis trailing in its wake.
The Toyota spluttered to a halt at the side of the track, victim of an electrical fault in the early hours of Sunday morning.
That handed first place to Treluyer's Audi with a three-lap advantage over its sister car.
But two hours later, the leading Audi was forced to make a long stop for a turbo change, surrendering six laps in the process and Kristensen's Audi became the race's fourth leader since the start.
The lead was short-lived, however, as the Audi also had to stop for more than a quarter-of-an-hour to change a turbo, a similar fate to that which had befallen Treluyer hours earlier.
Austrialian former Formula One ace Mark Webber then took the lead in his Porsche 919 hybrid, and was ahead with just three hours to go before being forced to abandon the race with transmission problems, leaving the road clear for the Audis.